Sun Feb 05, 2012 9:22 pm
You asked for it, here it is.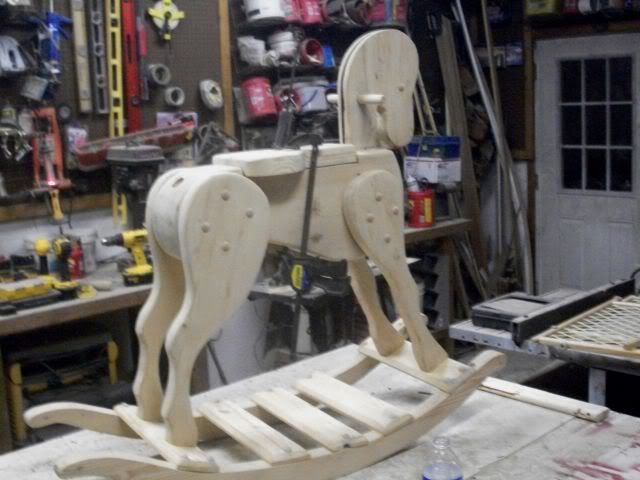 Orginally stained dark walnut. Marked up with permenant marker, fingernail polish, gum and some other unknown items. The main was long gone. The tail was still there but filthy. The lumber held up real good for being orginally built by grandpa bower in 1985. Well, this grandpa redid it in 2012. It will have a golden oak finish. I have had a few things of my own to it, for a bit more decoration, and flair. Will take more pictures when we are done with the mane and the tail.
http://s16.photobucket.com/albums/b46/v ... g%20Horse/
pictures will go into here. there is a couple more pictures to look at.
John
Mon Feb 06, 2012 2:10 pm
Hi john : That Old Horse is looking like new, Good Job, are you going to paint it or stain it ?
Mon Feb 06, 2012 7:23 pm
Only time i paint Chief, is when i want to hide something. This wood is as pretty as the day it was made. Took a little extra elbow grease if you know what i mean, but i think it will be worth when i get it all done. Will go with a light oak stain. rubbed in of course.
Mon Feb 06, 2012 7:58 pm
Hi John : It looks good, and i'm sure it will look even better when you get it done, I don't do great with wood, but i try hard, but i'll will never be as good as my Dad,
We have an old Cabin from down on the lake I moved up here it is about 700 SQ. Feet,
The wife wants me to replace a lot of the wood around the windows and a lot of other things that need to be done.
I know she is right and it needs to be done, So You being a Good Wood Worker, When can You Come To Arkansas, LOL
Mon Feb 06, 2012 9:27 pm
http://s16.photobucket.com/albums/b46/v ... /projects/
Chief check that page out, has several projects i have done. If you got time, surf up and look at the shop i built from nothing. If really got time go up one more level and look at the basement remodel. You will really like the master bedroom closest. Its a piece of artwork.
John
did i ever tell you my BIL is a retired COB of a sub. east coast primarily, 20 yrs 1 month.
Mon Feb 06, 2012 9:30 pm
John:
Your Grandpa Bower did a beautiful job on that horse. And you are doing a great job, a fine testimonial to the truth he tried to express in his work. I am glad you are going to allow the wood to speak it's own truth and highlight not hide. The mark of a craftsman
I am looking forward to the finished piece.
Tue Feb 07, 2012 9:25 am
I have one of those! My father-in-law built it 30+ years ago for his daughter (now my wife).
Now my kids are enjoying it. Might want to brand that horse before staining. It really adds a nice touch.
Tue Feb 07, 2012 10:08 am
outdoors4evr wrote:Might want to brand that horse before staining. It really adds a nice touch.
What or how do you mean? Got pictures?
Tue Feb 07, 2012 11:13 am
Hi John : I looked at all your pictures, You sure are a True Craftsman, I'm good with metal, but I have a hard time welding wood back together when I cut it to short,
And I love that Dog house, But I don't think Jerry Lea would fit in it, he is 127 lbs. and he loves tools as much as I do