Fri Feb 10, 2012 12:23 am
What hay rakes could the cub use, I want to try and get a few cuttings off my Argentine bahia fields...

Thanks Chris aka DAWG
Fri Feb 10, 2012 12:58 am
I just so happen to have a Rare Ford-Mac Dump Rake Model C 3
As far as we know, this is the only "mounted" hay rake for a cub. They are capable of pulling side delivery and pull behind dump rakes.
Fri Feb 10, 2012 5:06 am
While thats been said, has anyone pulled a side delivery hay rake with their Cub? ANd what size can it pull?
Fri Feb 10, 2012 6:51 am
Here is Phil Lenke with his side delivery



And my Cub with a horse drawn dump rake


Fri Feb 10, 2012 7:23 am
This is more what I was talking about, its a IH 14 rake
I also like that old IH 4 rake but I never see those for sale or when they do its the "COLLECTOR" version that they think is plated in 24 crt
GOLD
I also like your rake but think the side 1's are better for my purposes
I was just wondering what size you can use so you don't get too big of 1 for the cub to pull
Fri Feb 10, 2012 8:19 am
Here's pictures of my Poppy & Granny raking hay the summer of 1951 with their new Farmall Cub. Poppy purchased the Cub with a No. 22 mower and No. 8 14' dump rake. He used that rake for years...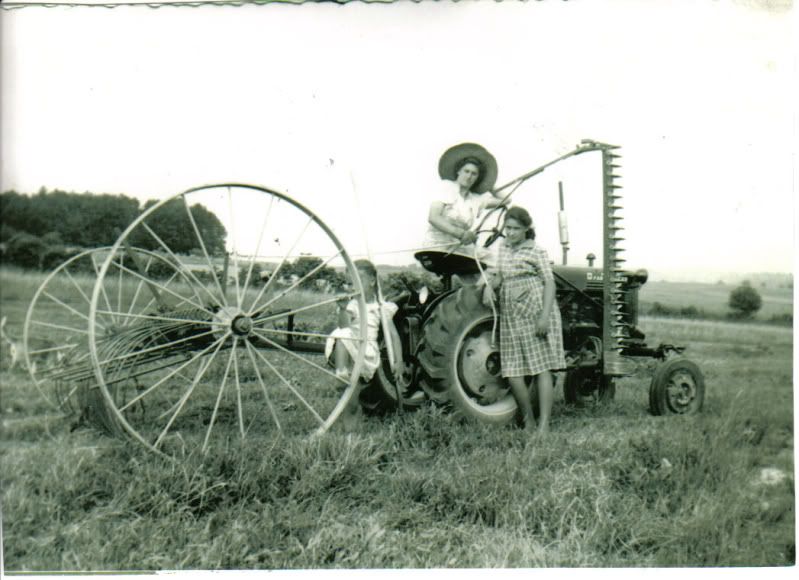 Fri Feb 10, 2012 9:04 am
love the old pics!, thanks
Fri Feb 10, 2012 9:22 am
You want one of the smaller ground wheel powered side delivery rakes - and not a pto powered rake.

Cub can easily handle a 10 or 12 foot rake. The side delivery rake is easy to operate. Makes continuous wind rows. No stopping and starting to dump accumulated hay.

There are usually several side delivery rakes for sale at the local machinery consignment auctions. Price varies. Usually $150 to $200- for one in excellent condition.
Fri Feb 10, 2012 9:36 am
Great photos, Dusti. Thanks for sharing.
Fri Feb 10, 2012 10:20 am
I use 2 different ones.
Ones an old IH 3 bar side delivery rake on steel wheels.
The other is a Dearborn side delivery rake both are ground driven.
You do not have the required permissions to view the files attached to this post.
Fri Feb 10, 2012 10:32 am
What is the tongue weight on the rake in that picture? Can the Cub's drawbar carry that weight without bending and would it risk damage to the final drives? I noticed that Phil Lenke's rake has the extra wheels on the front to help bear the weight..

Mike in La Crosse, WI
Fri Feb 10, 2012 11:00 am
Eugene's answer pretty well covered what I would recommend. The newer rakes with the rear drive wheels are more gentle on the hay than the earlier ones with the front drive wheels. The front drive wheels are a carry over from horse-drawn days. The rear drive style would have needed a foretruck for horses. The tongue weight shouldn't be too much for a Cub.
Fri Feb 10, 2012 11:10 am
MikeInWisconsin wrote:What is the tongue weight on the rake in that picture?
Minimal, Mike. Less than 1/2 of a rear wheel weight.
Fri Feb 10, 2012 11:38 am
Some examples aside from the IH #4 above would be an IH #5 which apparently is about the right size for a Cub and others that I found when I googled
IH Side Delivery Rakes
along with this one:
IH No. 14 Side Delivery Rake
And I guess this one will work as well.
IH No. 35 Side Delivery Rake
Fri Feb 10, 2012 1:15 pm
As for tongue weight, most would not be a problem, but you should check it when you are looking at a prospective purchase. Most of our neighbors had New Holland rakes, that were no problem to pick up and hitch to the tractor. However, my dad bought a Massey Ferguson rake that had a tongue weight well over 100 pounds, took two people to lift it to hitch easily. One person could hitch it in a pinch, but it was an absolute bear.