More 2012 harvest pics!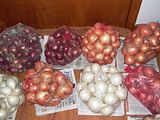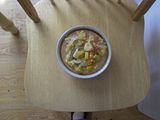 The sweet onions have been harvested and cured for storage---not as big as normal, but very nice clean tasty flavor, so we lucked out on them !
The grapes are for fresh eating,--as they are the kind that you see in the grocery stores, cept these are made to produce smaller berry size but same great sweet flavor!
The bowl of soup is a combo of everything that I could find ready for harvest that day in the gardens!---very tasty too,!
we were fortunate to have been blessed with a nice harvest despite the hot/dry weather!---For the last week we have gotten about 3 to 4 inches of rain, but ground still very dry down deep! thanks; sonny