After seeing Rudi's post today which had a picture of hay trollys I thought I would put together how loose hay was put up. I have only a general knowledge so not much detail.
An old horse drawn mower. Picture from tractorshed.
After mowing the hay was raked into windrows. The hay was gathered by the tines until the operator "dumped" them inline with the other dumps to form a windrow. Hence the name dump rake. picture from wikipedia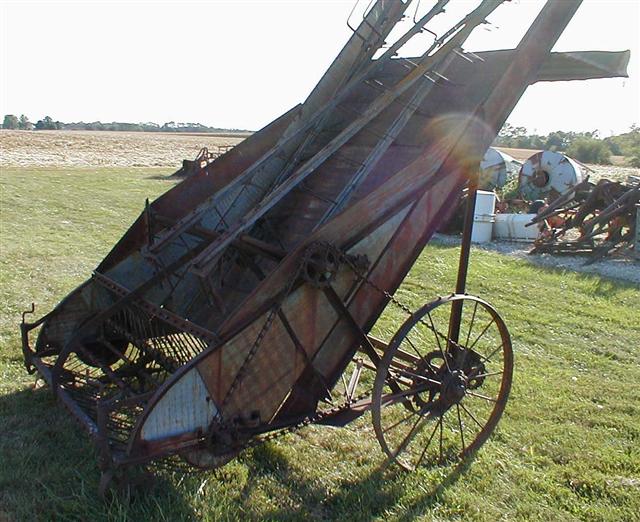 The hay loader was drawn behind the wagon and lifted the hay from the windrow onto the wagon. This loader pushes the hay by alternating the movement of the bars to push the hay up. Other styles used crossbars much like a manure spreader. A man rode the wagon to spread the hay. This was somewhat of an art to load so as not to have the load slide off. picture from chattractor
The hay was placed in the barn by a large fork running on a rail in the top of the barn. The trolley part is shown in the top picture while two stabber type of forks are shown in the second, the third is a grappling style. There was also a sling type which had to be placed on the wagon prior to loading. Think large tarp with spaces for hooks. The forks were pushed into the hay to lift a large amount from the wagon. A rope led from the forks, thru the trolly and to the end of the barn and then thru a series of blocks and attached to a horse. When the horse was driven forward the hay would be pulled up to the trolley then along the rail to where it was wanted, the trip rope pulled to dump the forks and as the horse was reversed the trip rope was used to pull the trolly back over the wagon. This was repeaded until the hay was off loaded.
The hay once in the mow exerted a lot of pressure on the hay and the bottom was compressed as tight as if it had been baled. Hay knives were used to cut chunks from the mow to use for feed. picture from americiaanartifacts
Vern