Yea, David's got you covered for the paint colors. 901 was the color of the Original, and it's pretty darn close to the 935 white. It actually has more of an olive tint to it when you compare it to 935 white, but you would never know it unless you had the two colors right next to each other. 902 white was only used for two series of Cadets, the 1x4/1x5 series, and the 1x6/1x7 series. It is more "white" than the other two, and again, hard to tell unless it is right next to the others. 935 white is a bit creamy colored, but is by far the most popular of the 3 colors.
Personally, I have just used 935 white for all of my tractor restorations regardless of the year, except for one 124 that I restored. I actually did not re-paint the hood, as it cleaned up really nice, so I did order the 902 white for the wheels and mower deck so they would all match.
Here is the first 124 that I restored, with the original hood and wheels/mower deck that I painted 902 white to match the hood:
Here is the second 124 that I restored a few years later, where I painted everything with 935 white:
As you can see, almost impossible to tell the difference.
Also, the first tractor has the original decals on it that came from the factory. The second tractor, with the 935 white, has reproduction decals from Maple Hunter. I definitely recommend them. Very high quality and great reproductions. Do me a favor though, use a reproduction of the original decal, and NOT the one that Cub Cadet sells now:
Here is a set from Maple Hunter for $28.00: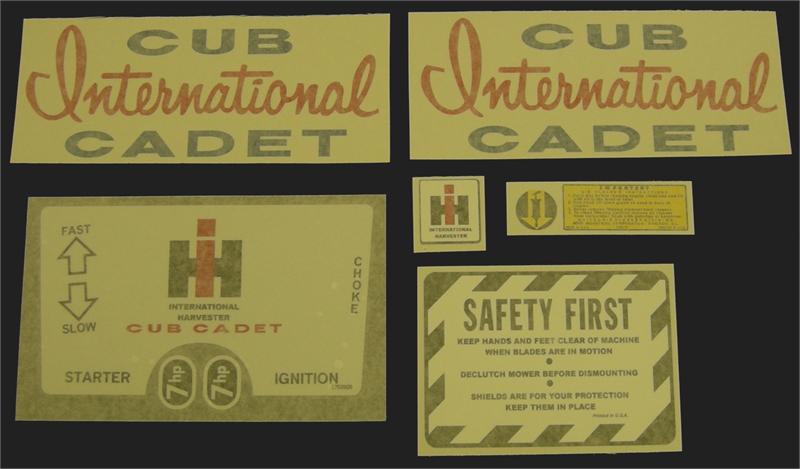 There are others floating around that the "International" script is just all wrong. Don't grab those, they look really awful. The ones from Maple Hunter are the way to go.