Fri Oct 19, 2012 11:15 pm
i have my danco c3 mower and i am going to be looking for the rear bracket/pulley assembly and a belly mower pulley. what do these pieces look like, where might i find them, and what are they going to cost?
Sat Oct 20, 2012 5:28 am
Above you will see a series of links in a line. The first one is (NEW) Manuals. Click on that and look for "Mower Parts". Download RC-1A (12 meg) and look up the bookmarked section for the C-3. You will have all the diagrams and part numbers there. I just rebuilt mine from end to end and had to find a few new parts and it was not bad, plus we have people here with used parts once you have the right ID to post in the wanted section.
Sat Oct 20, 2012 8:24 am
There are 2 diffferent mule drives for a C3, one for a fast hitch and one with out
Tim
Sat Oct 20, 2012 9:50 am
i do not have a fast hitch
Sat Oct 20, 2012 10:28 am
here are some pics, this is all i have for this mower, two hangers that supposidly came from a low boy. i see pics on the old manual PDF, but they are difficult to make out old grainy black and white. too many times of being re-copied will do that. if someone has color pictures of their danco C3 setup particularly the hangers and mule drive that would be great. i would like to know exactly what i need; not using a fast hitch setup.
i also included a photo of my cub, thought you guys might want to see this cool looking '47 that i have
You do not have the required permissions to view the files attached to this post.
Sat Oct 20, 2012 10:47 am
i also know where i can get a belly mower pulley but he wants $114 which seems a little high; what do these normally go for?
Sat Oct 20, 2012 2:44 pm
Here is a link to the installation manual,
http://www.cleancomputes.com/Cub/Cub%20 ... 0Mower.htm
, on page 8 on the left side it shows the mule drive and pulley you will need to fit your cub
Tim
Sat Oct 20, 2012 4:00 pm
those 2 brackets are for a loboy only
Sat Oct 20, 2012 5:46 pm
Page 8, illustration 8A if for a farmall cub without fast hitch, I have 2 tractors with that setup
Tim
Sat Oct 20, 2012 9:58 pm
is this the proper piece?
http://www.ebay.com/itm/Farmall-CUB-BEL ... 4abc2d2e82
i have looked at that blurry old photo, the picture is an old black and white and its difficult for me to see much detail. i only want to buy this once since it isnt particularly cheap. is this the item i need to make my belly mower work with my cub and is that price somewhat reasonable? are they hard to find at a better price? is this something that is what i need and i better grab it while its available? again if this is the wrong item entirely please let me know.
Sun Oct 21, 2012 2:18 am
That is for a Woods and it's missing 2 brackets. In my opinion that guy is way too high in his stuff, that included.
Be patient this winter and one will turn up. I will try to get a picture of mine today so you'll know what to look for.
Sun Oct 21, 2012 8:01 am
that would help, a nice color photo. i might call cubguy47 as well. that guy on ebay is on the high side, he is the same guy that wants $114 for the pulley, im guessing the pulley can be had for about 1/2 what his is asking for. can i used the stamped pulley?
Sun Oct 21, 2012 8:27 am
here is a pic of the bracket for the pullies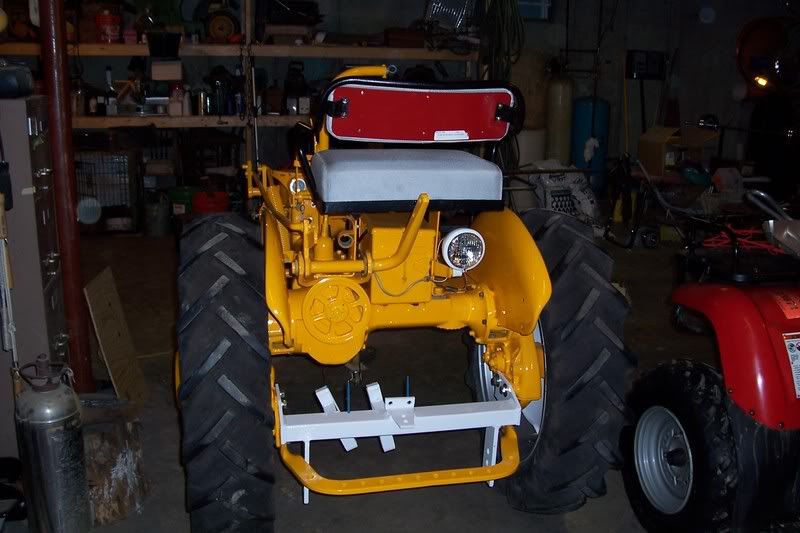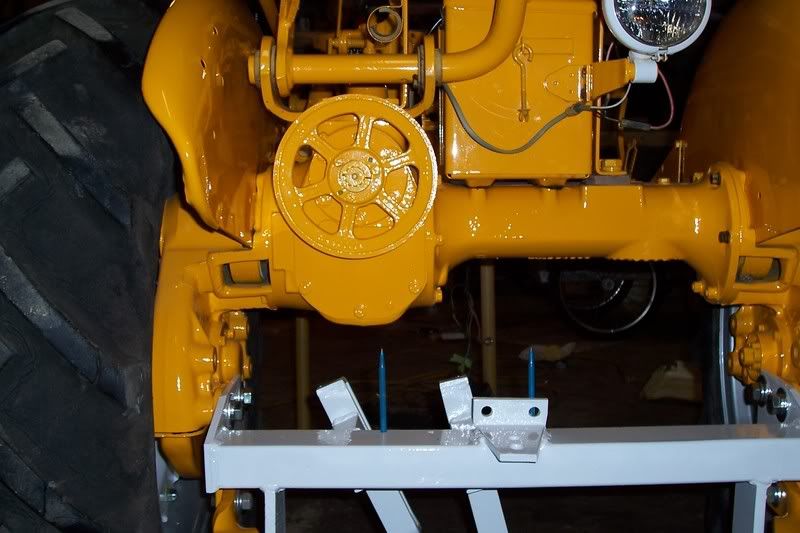 Sun Oct 21, 2012 11:25 am
nice looking photo, thank you. now only where to find one of those. how rare are they? will i regret going through all of this trouble to set this mower up when i should have bought a woods in the first place. i have heard that the danco c3 was a good mower, do they compare about equal to a woods? the mower i have is pretty solid; although it has its fair share of rust particularly underneath there are no holes in the deck pan and its not rusted to the point that i cant clean it up with my sandblaster. i have one of those pressurized sandblasting tanks
Sun Oct 21, 2012 11:40 am
i think the c3 is a great mower, i've been using it for 20 years and I've rebuilt the spindles once. all the bearings can be bought at most any auto parts store and the seals too.