Moderator: Team Cub
bear32055

10+ Years

Posts: 792
Joined: Mon Nov 26, 2007 5:55 pm
Zip Code: 62258
Tractors Owned: 3-1955 FCubs serial numbers 191155,191156 and 191158
1958 fcub
Circle of Safety: Y
Location: IL,Mascoutah
Meet Elise born2 hours ago to my oldest son and his lovely wife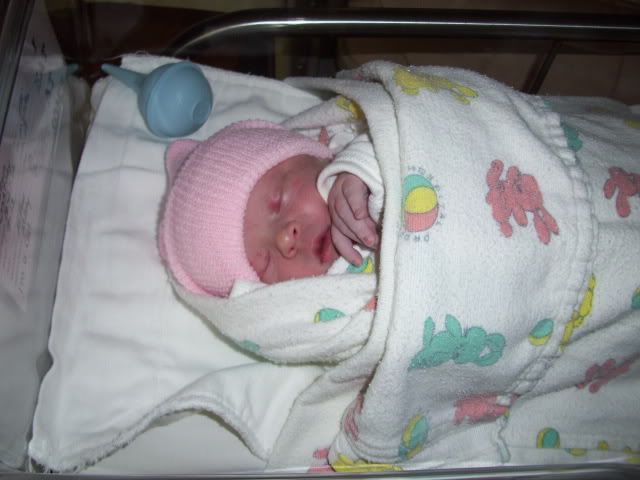 ---
Bob Perry

Cub Pro

Posts: 1866
Joined: Sun Feb 22, 2009 3:30 pm
Zip Code: 02748
Tractors Owned: :

1949 Farmall Cub / FH

1951 Farmall Cub / IH mower

1964 International Cub Lo-Boy / Woods 59 mower

1967 International Cub / FH

1946 Farmall H

1949 Farmall H

a doodle bug

More than a dozen Cub Cadets running plus a few in the bone-yard

.
Location: Dartmouth, Massachusetts
Congratulations on the birth of a beautiful grand-daughter !!!
REMEMBER: Keep it correct or you may face the
---
Jimdawg

10+ Years

Posts: 631
Joined: Tue May 01, 2007 4:05 pm
Zip Code: 02748
Location: MA, Dartmouth
---
Yogie

Cub Pro

Posts: 5138
Joined: Sat Sep 08, 2007 3:49 pm
Zip Code: 25271
eBay ID: yogiefisher
Tractors Owned: 37 John Deere A
63 Farmall Cub
53 Farmall Cub
Circle of Safety: Y
Location: WV. Ripley
Been waiting on that call all day Bear guy....
Glad things worked out, big sis will be thrilled I bet.
I'll talk to you on the way to work in the morning. Congrats big guy.

Democracy is two wolves and a lamb voting on what to have for lunch. Liberty is a well-armed lamb contesting the vote.
Ben Franklin
---
Rudi

Cub Pro

Posts: 28706
Joined: Sun Feb 02, 2003 8:37 pm
Zip Code: E1A7J3
Skype Name: R.H. "Rudi" Saueracker, SSM
Tractors Owned: 1947 Cub "Granny"
1948 Cub "Ellie-Mae"
1968 Cub Lo-Boy
Dad's Putt-Putt
IH 129 CC
McCormick 100 Manure Spreader
McCormick 100-H Manure Spreader
Post Hole Digger
M-H #1 Potato Digger
Circle of Safety: Y
Twitter ID: Rudi Saueracker, SSM
Location: NB Dieppe, Canada
Congrats
bear
Confusion breeds Discussion which breeds Knowledge which breeds Confidence which breeds Friendship


---
VinceD

10+ Years

Posts: 4584
Joined: Mon Apr 17, 2006 9:17 pm
Zip Code: 65626
Tractors Owned: 1949 Cub "Frodo"
1949 Cub "Sam" (future Project)
1965 Lo-Boy "Pippin"
1940 H "Walter"
1953 SC "Gimli"
Cub Cadet HDS 2155
Circle of Safety: Y
Location: MO, Bakersfield, (South - Central)
Congrats to you and the family.
Vince
High atop Hummingbird Hill
In the Missouri Ozarks
---
dgrapes59

5+ Years

Posts: 3295
Joined: Sun Jul 13, 2008 10:05 pm
Zip Code: 45067
Tractors Owned: 1951 Cub
2-1955 Loboy w FH
a few plows, discs, mowers, blades, carrier & such
Several '61 CC Originals, CC Narrow Frames- 70 & 100's, 71, Couple 102's & 122's, 72, 124, 73, various CC options & implements #1 & 2 Trailers, 1963 Springfield, JD 770
Circle of Safety: Y
Location: OH, Trenton
Congratulations Bear!

Grandkids are the greatest!
David
---
Mike in Louisiana

10+ Years

Posts: 6190
Joined: Tue Feb 15, 2005 10:10 am
Zip Code: 71023
Circle of Safety: Y
Location: LA, Doyline
Congratulations Mom Dad and Gramps
1975 cub (LouAnn) serial # 245946, 1941 John Deere Model H

Good judgment comes from experience,
and a lot of that comes from bad judgment. Will Rogers
---
---
Return to "Sharing with Friends and Family"
Who is online
Users browsing this forum: No registered users and 2 guests