Mon Oct 29, 2012 9:40 am
I have come to the point, where I am very seriously considering finding an outlet for selling my barn wood.
I know that it has value, reclaimed wood sells for good money. Problem is, around here many will offer to remove your barn and clean up most of the mess, if you give them the wood
My barn was built in the 50's with local timber. Red and white oak, chestnut, black walnut etc. Huge hand hewn bottom joists, beams etc. Originally, some of the planks were over 24" wide 5/4 thick and 12' long
The barn is sectioned in a way that it is not conducive for my uses. It is 30'x60' with a full loft, and the exterior is well weathered.
I would like to sell the lumber to fund a more modern cub shop.
Does anyone know where there is a demand for this type of wood? What is a fair value per board foot for the planking and the beams?
Depending on the value of my wood, will determine the size of it's replacement.
I could also deliver it for actual expenses.
Any ideas?
Mon Oct 29, 2012 10:04 am
Guys around here are taking them down piece by piece and putting them back up as homes in some areas. Also a lot of crafters are buying it up as quick as they find it. As of value, I do not know, because I have people that are just giving it to me now just to get their old barns out of the way. I have a shed full of it now and have only sold maybe $100 worth, and given away twice of what I have sold. I do make a lot of furniture and garage cabinets out of it, most is douglas fir, white and yellow pine and a little white oak. The oak is so hard it is hard to work with.

There are outlets out there that buy and sell old buildings, that maybe a start as to determine value, ask for an estimate?

Good luck
Mon Oct 29, 2012 10:33 am
The walnut has good Value in any size as to the rest I am unsure The wide boards will sell the ones under 8 inches are just sawmill boards IMO
Mon Oct 29, 2012 10:35 am
Top dollar stuff would be from the 1800s I have sold some red pine flooring from that era
Mon Oct 29, 2012 10:40 am
is the barn that bad that it cant be saved?
Mon Oct 29, 2012 11:24 am
Barn boards up here bring good money if the barn is early 1900 s or late 1800 s. A lot of the barns have hand hewn chestnut beams. Like boss said the wider the better. People I know who have tobbaco barns from the 30's and 40 s do well they usually get the replacement boards and make enough profit to put on a new roofs. Friend of mines 1800 s barn has boards that are 16 plus inches wide and up to 16 ft long, he has had many offers but being the barn is in nice snape he will not part with any of it. Good luck Dale
http://www.atimber.com/
This company is located near me they deal with a lot of expensive reclaimed wood.
Mon Oct 29, 2012 11:30 am
Rob, it is not that "bad" some area's are rotten from leaks, but the majority is sound. It is just non functional.

60' wide with 5 different sections. center of the barn is open, each side from that has 3 "stalls", and one end was a chicken coop and the other a sided lean too-kinda. The barn was built on a slope, very little of it is level. some of the bottom Joists are a foot to 18" above dirt floor height in places, making it difficult to enter stalls.

The outer boards were put on green and in places i have an inch or 2 gaps between boards. The wind and weather blows right through it. When it rains hard, because of the slope, I get a stream across the floor..

The barn is better than nothing, but I Need a concrete slab and a warm dry place to work on projects year round. And with my health issues, it is also becoming a safety issue. I will make do with what I have, but, I could do a lot more and a lot better with a lot less that is functional.
Mon Oct 29, 2012 12:13 pm
Dale:

Many cabinetmakers/furniture makers, turners and other woodworkers pay a premium for exactly what you have in your barn. Walnut, Red Oak, White Oak and Chestnut are high value woods. There is a huge demand today for furnishings that are repurposed (a politically correct term for salvaged wood) stock from barns, old homes, factories etc.. I utilize salvaged material as often/much as I can depending on cost and supply for different types of woods. I even use salvaged plywood, dimensioned construction stock, windows, doors and just about anything I can find a use for. I really like salvaged material, it has character and you know that it will last especially if any rot is cut out. You will have to do some research in your area as to who actually will buy it at wholesale prices (yeah, that is part of the process - resellers need to make a profit) unless you can find shops that would purchase it from you in bulk.

I sure wish I had access to aged and weathered Chestnut, Walnut and the Oaks as well as any other hardwoods y'all have down in your neck of the woods. The shops and salvage folks who deal in architectural millwork etc., will be your best bet and will return the highest percentage in profits for you unless you can sell directly to a shop.
Mon Oct 29, 2012 12:33 pm
I have no idea as to value. Don't discard any solid wood. For me length is as important as width. I can biscut and glue to get the width I need.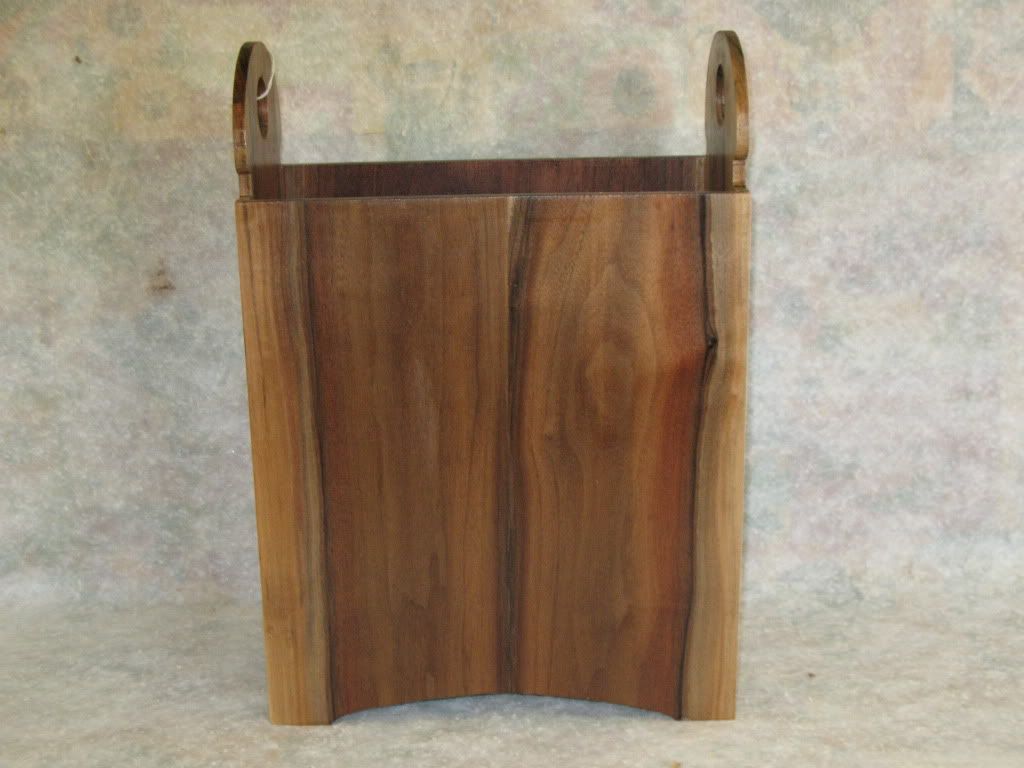 This wastebasket was made from reclaimed wood. The board was cut and edge glued back against itself. I use reclaimed wood and logs that are given to me. Reclaimed cherry is my favorite. It is amazing what a planer can do. If you can safely get it down doing so will give it a lot more value I would think. Around here there would also be a liability problem with anyone not insured taking it down. Good luck. Vern
Mon Oct 29, 2012 1:00 pm
Dale, Could you reuse the lumber on the "new" barn when it gets built? You could always sell the left over material and beams if you switch to a pole style barn. The gaps could always be covered with battens to seal out the weather.

Bob
Mon Oct 29, 2012 1:09 pm
I guess you have gotten tired of the dirt floors covered with carpet?
Mon Oct 29, 2012 1:53 pm
Mr Joshua wrote:I guess you have gotten tired of the dirt floors covered with carpet?
LOL, well Josh, after 4-5 years of the carpet covering the dirt floor, and holding in the dampness
I can no longer tell where the carpet is in places, except, it does keep the floor from getting muddy.
Big issues i have are the weather and the need for level and concrete. Have you ever tried to split a cub on a slanted dirt floor, and then put it back together by yourself? I have done a good many this way, and some day I am going to get hurt. But, you use what you have, and this is what i have.
Fri Nov 09, 2012 3:52 am
Dale, a home designer may be interested in the smaller boards. If weathered, they split them and get two boards with a flat side. It can then be used for paneling offices and dens, etc.
Fri Nov 09, 2012 6:27 am
http://columbiamo.craigslist.org/mat/3385624483.html
Dale here is how a guy is selling his old barn wood here in Missouri.
Ron