Fri Nov 23, 2012 5:12 pm
Hi,

My Throttle return spring is so tight that I have a tough time keeping it in place. The teeth that hold the throttle level in place are worn at the high end and it likes jump back. Sometimes I have to hold it in place and it can take a little strength as it's constantly pushing back. The return spring seems excessively big but looks factory. Anyone else have in problems like this? I wanna replace it with a smaller spring but don't know if there is anything I should know.

Thanks,

Johnny
Fri Nov 23, 2012 5:34 pm
Johnny, some of them pull hard. Take a small 3 sided file and deepen your notches, or it can be done with a dremmel or 4.5" grinder with a cut-off wheel.
Or, you can get a new one from TM.
http://www.tmtractor.com/new/gv/689fp.htm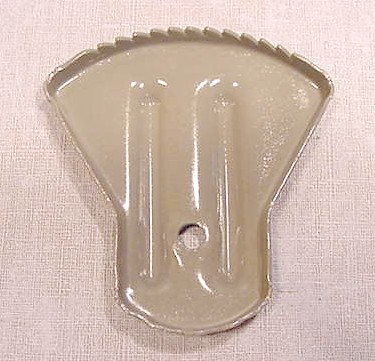 http://www.tmtractor.com/new/gv/6436fp.htm
Sat Nov 24, 2012 7:24 am
Johnny:
As Dale said it is the quadrant that needs attention. Both of these articles were written by one of our greatest Cub Guru's - George Willer (RIP
+
)
Superstructure




Or you can call Tom and Lynn
Sat Nov 24, 2012 7:29 am
Johnny, that spring is not really a return spring, but a governor control spring. The strength of the spring controls engine RPM. If you replace it with a lighter spring, you won't have the needed engine speed. You need to do as Dale suggests and repair or replace the lever components.
Sat Nov 24, 2012 8:00 am
There's usually a corresponding notch worn into the tooth on the side of the throttle lever to accompany the worn quadrant. Both come from 50 or so years of just pushing the lever forward instead of moving it to the left to clear the quadrant teeth, then forward, then back to the right into a notch. Replacing or repairing both may be necessary for correct operation.
Sat Nov 24, 2012 8:19 am
Johnny,
Symptoms sound familiar to mine last year. Lubricate all the pivot points on the governor control rod/spring assembly with a light oil, work the governor control lever (throttle) back and forth with the tractor running and things should free up.

Peter
Sat Nov 24, 2012 5:12 pm
Hi Johnny,
As a recent first time cub owner, I had the same problem. Being a former joiner who used to sharp my own hand saws and other joiner's handsaws too. I took it off the tractor put it in the vice and deepened the notches with a triangular file which I used for sharpening the saws. Worked a treat, problem gone.
Donegal Cub.
Sat Nov 24, 2012 6:47 pm
George did quality work.
I built up mine with the MIG then ground the outside on bench grinder, the inner/under part with a die grinder to eyeball-estimated 1/8 thickness for the notched portion. Those thick notches should last much longer. But they are much more work to cut. Also the lever is welded and rebuilt to eliminate the work notch in it.
Wed Nov 28, 2012 7:49 am
Excellent thanks for all useful information I'm going to make use of all of it.