Sat Dec 15, 2012 8:42 am
Bigschuss wrote:
I get a sense that most people in their 40's, 50's 60's, and 70's long for an American like to used to be.
For me it's more than a sense, it's a pleading
Blair,
In my opinion you as an educator along with parents are the most important people in our nation to form the future civilization(s) of our country.
As what I'm reading you're saying as teacher and a parent what you are seeing for the "fester in our country" is mostly violent video games, access to explicit internet sites and unsupervised children?
Sir don't apologize for your rant; your post should be in the headlines…. Please keep posting your thoughts…you along with your follow high school teachers put the finishing touch on the next generation.
Sat Dec 15, 2012 9:08 am
School tragedies are not new, but now get more publicity-- faster.
Here is one that is mostly forgotten. And he was a trusted insider.
http://en.wikipedia.org/wiki/Bath_School_disaster
Sat Dec 15, 2012 9:21 am
Yet another reason that I have not watched the TV news in years. How do you 'explain' an event like that to a bright eyed child??
Seems we are getting more 'selfish' by the day.
Occasionally you can stumble into a good story:
http://lightandchampion.com/article/003 ... -community
"Members of Bennett Chapel Baptist Church, in Possum Trot (pop. 700) have adopted a stunning 76 foster kids over the past 16 years after the minister's wife took in four and inspired a chain reaction. The 20 or so sets of foster parents who followed the lead of Bishop W.C. Martin and his wife, Donna Martin, hope their act of love will inspire others to take in fosters children from across the state, many of whom had been abandoned or abused."
"The Possum Trot community's adoptive families have been on a life-changing mission in the lives of the children they have adopted, and although the spiritual lessons they impart are the most significant, the tangible gifts the children received on Dec. 4 will clearly illustrate what grace is."
Sat Dec 15, 2012 8:18 pm
armed police officers in her school every day not just to protect the staff and children but to act as positive roll models in the school setting, maybe this should be a national standard? I have no answers at this point just sadness.

I do not think more government control is the answer.
Sat Dec 15, 2012 10:11 pm
When this story broke, I was up in northern Michigan on a short deer hunting trip. I couldn't believe it when I heard that 20 little kids had been killed. My heart goes out to the families of the victims and the children that had to witness that horror. What the perpetrator did is against the law and as stated earlier, more laws would not have stopped him. Laws only apply to law abiding citizens. The laws that gun control advocates wish for would leave law abiding citizens without any guns while the criminals would remain fully armed. That is a scary thought.

Regarding the demise of humanity, violent video games , television and movies are only a portion of the problem. The real problem, in my mind, is the turning away from God that is so prevalent in this society. So many kids these days never get any foundation in morality which is taught in Church and modeled by their parents. Most children never even attend church. Sad. Also, these days the raising of kids is farmed out to day care centers which dare not impose any type of morality for fear of getting a law suit. When you combine the two and add the television, movies and video games that are so popular, add a dose of mental illness and you have a tragedy in the making. Just my 2 cents.

Rick
Sat Dec 15, 2012 11:33 pm
I can only hope the Sandy Hook incident is the "straw that broke the camels back".

Upgraded school security is necessary as a change of the times, similar to the addition of seat belts to the automobile. Motorists did without them for decades but eventually times and conditions changed, mandating their need for motorist safety.

Of all the stupid government sponsored programs my tax dollars help support, I will gladly support funding for homeland school security without argument.
Sun Dec 16, 2012 6:57 am
My son took this picture and sent it to me as he was waiting for passengers to board the plane he was piloting. This guard was looking at people who already went through an airport passenger check point in another country. He wrote in his e-mail "coming to an airport near you" !
Being a person who grew up in the late 60's and that's really tired of war and killing; for some reason I just can't see this at every schools front door and walking the schools hallways. But, after seeing the pictures of those very young innocent children's life taken, I too will support whatever it takes to stop this stupidly.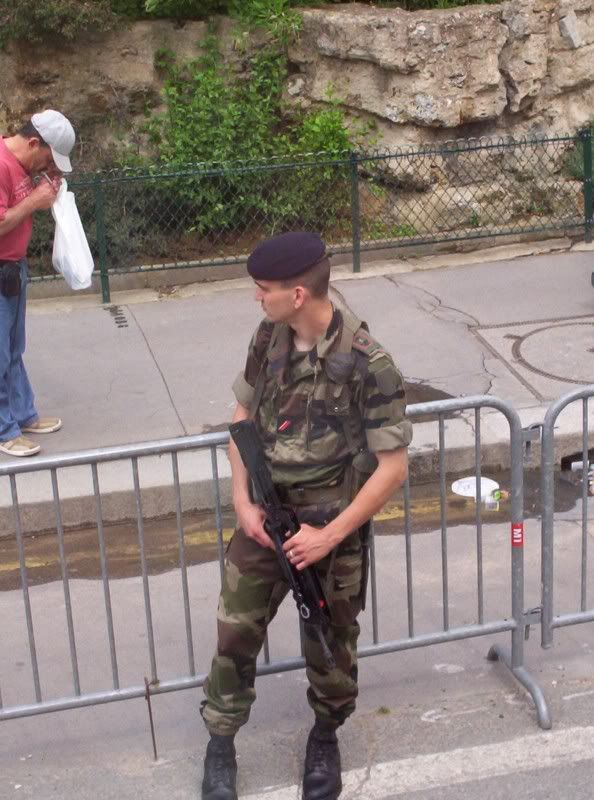 Tue Dec 18, 2012 6:16 am
I saw on the news this morning that there is a group of therapy dogs that has been sent to Newtown, still tears flow easily as is the case I am sure for so many.
http://www.newser.com/story/159467/gold ... chan3_feed
Tue Dec 18, 2012 7:20 am
I had read that story yesterday... And had forgotten about the NIL shooting leaving 6 dead, the article refreshing my memory.
Then suddenly I remember this past February, 30 minutes from where I live, Chardon, Ohio High School, 3 dead, 3 wounded.
These incidents are spaced out just far enough flying under the radar preventing them from being considered an epidemic.
Sandy Hook has got to be the tipping point. Changes in school security is now mandatory. I hope every one reading this will take the time to email or call your State Representative and Senator echoing the need for change.
Tue Dec 18, 2012 8:25 am
I fear the problem is in the raising of these individuals that perpetrate these acts. No gun laws will help. Somehow we have to get our moral values back.As they have long been gone.
Boss
Tue Dec 18, 2012 8:34 am
Boss Hog wrote:I fear the problem is in the raising of these individuals...
Definitely the root of the problem.
Tue Dec 18, 2012 10:45 am
This kid had mental illness. His mother basically devoted, and sacrificed, her life to supporting him. I think it is a lot more complex than blaming the parents. We will never know exactly what went on in that house.
Tue Dec 18, 2012 11:01 am
I was speaking in general
Tue Dec 18, 2012 12:05 pm
Having a close family member diagnosed with mental illness drove me to research the complexity of mental illness in great depth.
Mental illness is wider spread than most think, a disease often hidden because of embarrassment.
I joined the National Alliance on Mental Illness (NAMI)
http://www.nami.org/
last year, a cheap investment for the amount of information, literature and publications you receive with your membership.
As previously stated, one has no idea what goes on behind closed doors or in someone's mind.
NAMI is a great resource for those with questions.
You do not have the required permissions to view the files attached to this post.
Tue Dec 18, 2012 1:24 pm
God Bless the innocent kids and staff in this heartwrenching mess. Don't think the teachers that sacrificed trying to help save kids are given anywhere near the recognition they should be. Seems to me other occupations of public service that get killed in line of protecting others get a lot more fuss in the media, and its just the way our screwed up society is I guess. Does not make it right at all