Thu Dec 27, 2012 5:07 pm
Looks like about 15" total. Started late last night and stopped around 3pm today. 2 lifts to get the stuff cleared and stacked -- once at 8am, second around 4pm.
Nice to get some snow after last year when I didn't use the Cub once for plowing. Really like that rear light glowing red, especially when on the town road--I do swing out onto the road now and then because I have to pull all plowed snow onto my property, not across the road -- a town rule. I usually do some backing up with the plow down to drag the snow back with me, but if too much it'll clog things behind the plow; so I tend to do this back-blade stuff as well as regular plowing. Between plows, took off to do a bit of trail making with cross country skis. Now I'm psyched! Santa arrived a bit late, but he brought the goods!
You do not have the required permissions to view the files attached to this post.
Thu Dec 27, 2012 5:45 pm
You don't see a reference to The Berkshires here too often (if ever?). Nice tractor and nice scenery! I'm up in Savoy at about 2,000 ft. elevation and we got nailed pretty good too...like you say about 15 inches, but we had considerable drifting. I only got out once today, so I had a tough go of it, but my '58 Fast Hitch still got the job done.

Where are you at?

Blair
Thu Dec 27, 2012 8:15 pm
I dodged that storm all the way across NY and MA on the way home yesterday.
Very happy about that. Had me a bit concerned, a storm that dumps snow in Oklahoma and Texas is nothing to fool with.
Did you intend to have that horizontal angle on the plow? If not, you can adjust with the carriage bolt into the bracket (where the lower/blade spring is). For me it seems to work better 'square' to the ground. I had it with a bit of the opposite angle from yours and didn't like it. Just a thought.
Thu Dec 27, 2012 8:37 pm
Down here in the Ct river Valley we got only about six inches but it was wet and heavy. Used the green and yellow snow throwing 330. Sure is nice to have a cab, I would like to figure out a way to put some heat in it.
Thu Dec 27, 2012 9:08 pm
Other end of the state, we had an inch of snow, in the night, followed by an inch or more, of rain. Windy, 47 degrees, mid day, here. Ed
Fri Dec 28, 2012 5:37 am
Blair -- We're neighbors! Darned if I ever knew there was a Cub in Savoy. We go there now and then to visit our favorite saw mill, out off of Loop Road. I'm in the next town over -- Plainfield. Elevevation around 1800 - 1900 feet up. Off to Notchview later on today for x-c. Will send you a PM on telephone number.

Larry -- Don't follow you on the horizontal angle. Might be possible to explain it to me? Adjusting on the back of the plow?? Must admit, I've never made one adjustment to the plow ever in 20-something years, but have replaced a few nuts that get ground off by plowing. Gotta say, you guys sure gave me great advice and info on straightening out the sicklebar mower, so I won't be a bit surprised to learn that I can improve the snow plow.

Joe -- Hey! 6 inches of sloppy heavy wet snow is probably a tougher job than our 15 of mostly fluff.

Ed -- I guess you'll just have to wait your turn on snow! I do remember some years back (when I lived in NH) when we got 36" in one storm and the Boston area got the same. So you're not out of the snow loop, that's for sure.
Fri Dec 28, 2012 5:42 am
Just sent a PM to Blair and in doing so recalled our toughest plow job here. Had returned from a year away, and it was the middle of winter. Snow in the drive and walk to the house from the barn was at leat 24" and crusty on top, solid below. Took many runs at it, a bit at a time, a slice on top, then down a bit, on and on.
Fri Dec 28, 2012 6:13 am
Hi Dick...from your pics I could tell you had some elevation. Indeed I think if I threw a rock real hard with the right wind it would land in your driveway!

My wife is an instructor at Notchview, and yes I know the Harwoods' place real well. I built a timber frame 2 years ago and they cut my beams for me.

Blair
Fri Dec 28, 2012 6:56 am
Now I hear maybe a few more inches on Saturday, and cold for next week. Maybe winter will stick around for a bit to help all of the skiers. I figured I doomed any snow this year by buying a snow mobile. Blair might head up to Adams soon to go to the store you told me about. Spent a few hours up in Plainfield the other day, almost made it then.
Fri Dec 28, 2012 8:57 am
I am going to get some seat time this morning. Started snowing late yesterday afternoon - overnight. A little drizzle now, so going to wait for a bit. We got almost a foot of snow and with the drifting it will be interesting. Man I love winter
Dick:
Your second photo would make a great puzzle - one I would enjoy doing. Maybe Bill will grab it and when he has some time will turn it into a bunch of pieces
Fri Dec 28, 2012 9:37 am
Dick, not sure what the 'best' angle is. But the Nylock nut in the other picture is where the adjustment is. I think there are 4 holes. Seems you would have a lot of snow 'lost' over the top of the blade instead of pushing it??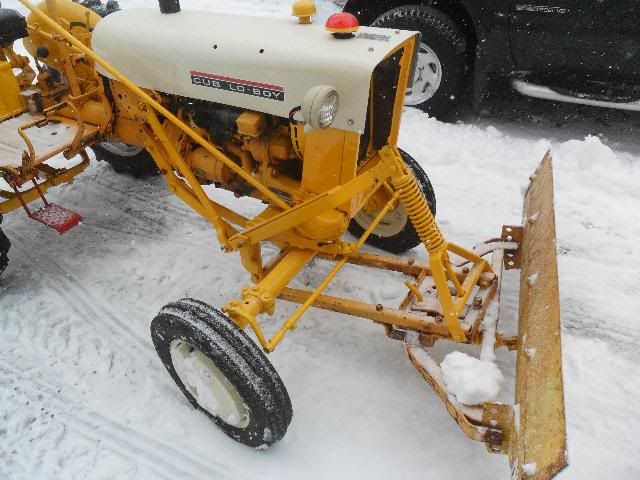 Joe has a nice one with a hydraulic angle for sale.
Fri Dec 28, 2012 10:02 am
He's talking about how your blade seems to "lean back" at quite a steep angle.

That would cause the cutting edge to dig more aggressively. Not a problem on a hard surface but you've gotta be cutting up the turf pretty bad when you get off the driveway.
Fri Dec 28, 2012 10:45 am
Read pages 3, 6 and 8 in this manual. Particularly look at the part starting with the last paragraph in the first column of page 3 and the instructions on page 8.
http://www.cleancomputes.com/Cub/Cub%20Implement%20Manuals/Cub-54%20Leveling%20and%20Grader%20Blade%206-7-53/index.html
Sat Dec 29, 2012 12:06 pm
Rudi -- You and others are welcome to use the photo for a puzzle. Go for it. Just let me know about it, too. Okay?

Larry and others. That blade seems to have a life of it's own. When I plow it leans forward, not backward and gets the job down. I looked at it this morning and see that the bolts to the blade are in the bottom most holes. So far I'm happy with it...and "if it ain't broke, don't fix it."
Sat Dec 29, 2012 1:37 pm
Hi Guys, We are getting lots of snow here in NE Pa today. Great for the Cub though. I didn't get a chance to use the plow last year. Already plowed once and will hit it again this afternoon. Harry