Thu Jan 17, 2013 3:45 pm
Was buzzing slabs today
Thu Jan 17, 2013 4:15 pm
Looks like it creates alot of sawdust
FAST
. Watch those fingers!
Thu Jan 17, 2013 4:23 pm
I would like to have one of them to buzz my slabs from the saw mill, i just cant seem to find one. maybe one day?
Thu Jan 17, 2013 4:46 pm
Clark,

Where does that extra lever run to on yours? PTO, Throttle, Hydraulics, Kill Switch?
Thu Jan 17, 2013 5:51 pm
Clint I see them all the time for 3 point hook up. THEY are
DANGEROUS
in my opinion. Mo0st all the old folks had less than 10 digits that used them
Boss
Thu Jan 17, 2013 5:55 pm
the lever controles the hydraulics. I use the hydraulics to tip the table. After a hour or so of cutting the table gets heavy. It also heeps your hands and arms away from the blade.
Thu Jan 17, 2013 7:48 pm
I like the substantial table, on your saw. Much safer than the couple of inches of angle iron, that comes with the saw. Ed
Thu Jan 17, 2013 8:11 pm
Clint:
There have been a number of them on CL and
in the last few months including the Mott Cub Sawyer and Brookfield saws.
As far as the Buzz Saw being dangerous, well, all powered equipment is inherently dangerous. However a buzz saw operated properly is no more dangerous than a table saw, band saw or any other power tool. In the hands of someone who isn't trained to operate the machine it is one's worst nightmare or could be. However, if you follow all the normal safety procedures that should be common sense when operating something like a buzz saw, it is no more dangerous than any other tool used in any other trade.
I have been using these types of saws all of my life and I still have all ten digits -- course I have been in shops where some of the folks operating the saws have found ways to cut off digits even when properly designed guards and training courses have been in place.
Fri Jan 18, 2013 5:45 am
I agree with Rudi If safely operated they are a useful tool. I have used them before and still can count to ten without taking off my shoes. They can be dangerous to use but than that's probably 90% human error. Here is my latest ferguson saw on the back of one on my fords.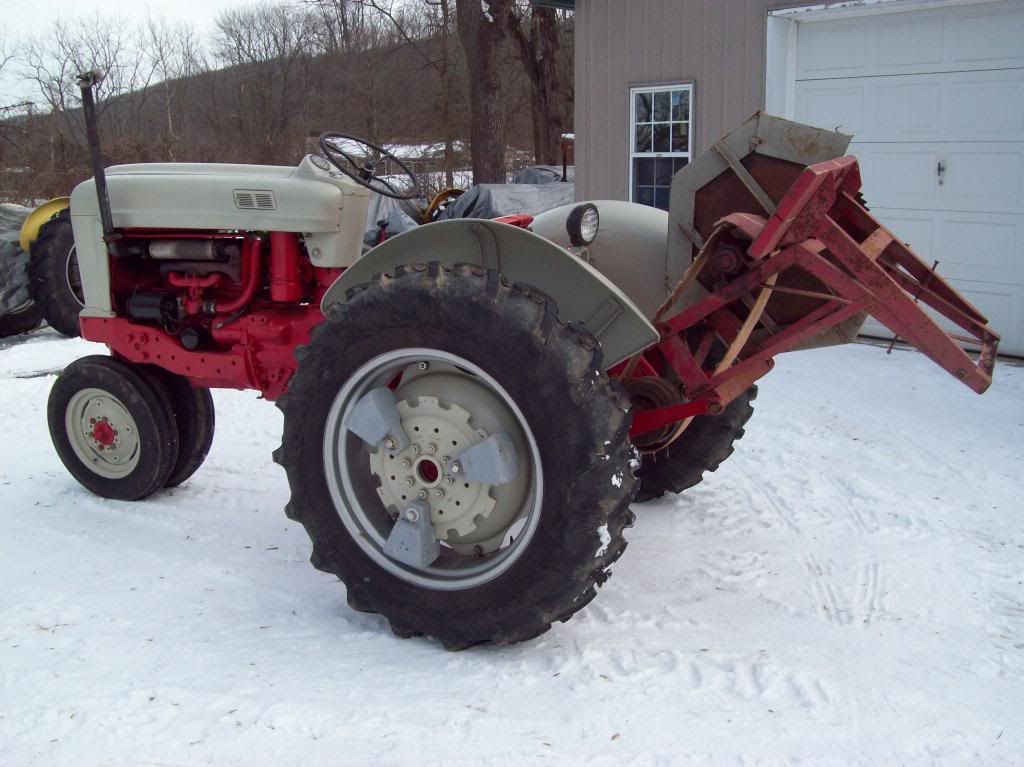 Fri Jan 18, 2013 12:36 pm
Kirk, what is that white stuff under your tractor? Is it parked at the beach?
Fri Jan 18, 2013 12:44 pm
I'ts snow with a nice coating of ice underneath. After sandy I don't think there's any beach left in NJ.

Kirk
Fri Jan 18, 2013 5:37 pm
Nice set up Clark. I quess you don't cultivate. That's a ceative use for the cultivator bars.

Kirk
Fri Jan 18, 2013 7:29 pm
those worked great for forks. They are high carbon steel. I had some regular bar on it before but they bent pretty easy. The tool bars were from pieces and parts I had around at the time.
Fri Jan 18, 2013 10:53 pm
Yup, those rigs can be dangerous, but if you keep a healthy respect for them and pay attention to what you are doing you will be ok. We cut all of our firewood plus sharpening posts with this one for 20+ years, and no one ever got hurt. All the old timers I know that were missing digits lost them working around sawmills, not buzz saws. I think being around them constantly day in day out you start to take them for granted.
Sat Jan 19, 2013 7:05 am
I have a free standing[belt driven] buzz saw...I like it...Blde needs to be sharpened,but cuts great..Had a stack of fence to cut up.Took all the fun out of it.Done in no time.Yes dangerous,,,but so are chains saws etc etc.... Kevin
PS:John nice set up on the H!!!! Thought about getting one of those!!