Sun Jan 27, 2013 1:02 pm
JC-Cub wrote:I like all the red round nose ones but I have never had a square nose one so I may like those as well. Boss Hog tells me I should try the long stripe ones and I will like them even better. Jim
That's for sure, that's for dang sure
Sun Jan 27, 2013 1:49 pm
My favorite has to be Louie because he went from a barn find to this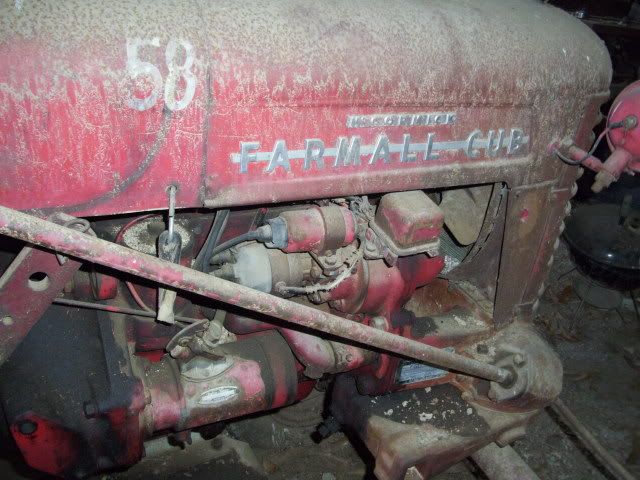 Sun Jan 27, 2013 1:50 pm
Mine
Sun Jan 27, 2013 3:08 pm
My '47 # F550 is my favorite, although not running as of now. Hope to get to it this summer for a good fixin' if my neck and back problems allow me to.
My LoBoy with disc and rear blade was very handy in redoing my back yard and my storage yard a couple of years ago, too. I guess I like them all! Steve K.
Sun Jan 27, 2013 4:34 pm
Naw Boss, that is the Lo Boy, my fort mowing machine. I was thinking of putting the loader on it, but it will probably keep it the way it is (with some customization??).
Not sure if that one is a favorite one or not, but a very good Cub! There are some advantages to a Lo Boy.
Sun Jan 27, 2013 4:55 pm
my 55, and all of them that are still out there working.... I like cubs in general
Sun Jan 27, 2013 5:33 pm
What ever I'm sitting on.


Russ
Sun Jan 27, 2013 5:47 pm
Hmmm...Good question!
Sun Jan 27, 2013 8:15 pm
My favorite is the 69, Yellow/White fast hitch that I purchased several months ago, however mowing or plowing snow with the 49 is also very good mental therapy.
I have never met a farm tractor that I didn't like, but he Cubs are special.
Berlin
Sun Jan 27, 2013 8:42 pm
My favorite Cub isn't one of mine, it's Bob Perry's Yellar Cub. Pulls 25 people on a hay wagon on hay rides.
Sun Jan 27, 2013 10:15 pm
Boss Hog wrote:Well I like all my square noses but am partial to the 64 Farmall 12 Volt cub red with white hood just because they are rare.
I guess when I think "Cub" I have always thought of the 47-54 year models. The square nose Cubs sure do grow on me though. My Cub, the Paperweight is a '49 and though it was a borderline POS when I got it, I have kept on until I have it just about like I want it except for a few small details I'll get around to "one of these days." I have been tempted a time or two to sell it and
fix one of my Super A's,
buy another Super A, but the truth is it's such a plowing little SOB, it is wonderful for cultivating really small crops, and I like it better on the sickle bar mower than a Super A. So even though I lust after one of those red/white '64 model square noses, I guess The Paperweight is still my favorite
Al
You do not have the required permissions to view the files attached to this post.
Mon Jan 28, 2013 6:27 am
the '48 trimmed dash high crop. unique, of course, but being able to hand crank it easily ( i have to admit it came to me that way
) is cool. coppersmythe................................................PS: i spend the most time on the '78 3/4 in the winter, loboy cutting grass in the summer , sooooooooo
. the cub i'm sitting on ?
Mon Jan 28, 2013 6:55 am
In pondering this question, I suppose "Cubota" (my "48" with the Kubota Diesel engine) is probably my favorite, but I'm also quite fond of "Scotty", the "57" that I bought from George Willer. I did a good bit of work on "Scotty", as well as a few others of his and "Scotty" just kinda touched my heart. I always display it in George's memory.
Mon Jan 28, 2013 11:18 am
My only Cub is a 1970 that called to me from a tractor dealer lot as I drove past. It lead me to buy a B and then a M Farmall. I have met a lot great folks because of the little cub. And I joined a great Cub tractor forum too ! I see another cub in my future for sure. I like the looks of the early cubs.
Mon Jan 28, 2013 7:52 pm
My favourite Cub would be any Cub that I own, however if I have to choose, I guess it would be Ellie-Mae my first Cub.
She is my main workhorse and test bed for all of my projects