Tue Mar 12, 2013 10:07 am
I am in the process of replacing seals in a "new" final for my '55 cub, and when I removed the seal for the outer axle from its retainer...#15...it had been staked. What is the easiest way to eliminate these raised stake spots so the new seal is not damaged when installed? The inside radius of the retainer is a bit tight fo most tools.
http://www.cleancomputes.com/Cub/Cub%20Parts%20Manuals/TC-37F%20Revision%202%20(09-70)//Chassis/Page-160.jpg
Anyone have experience with this? I do have a dremel tool...maybe something with that? Thanks!
Tue Mar 12, 2013 10:14 am
Yep, support our site sponsors and get a new unit from TM Tractor parts
http://www.tmtractor.com/new/fr/393fp.htm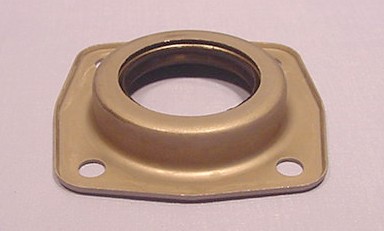 Tue Mar 12, 2013 10:22 am
I have a few of the retainers if you need one
Tue Mar 12, 2013 11:18 am
What is a stake spot?
Tue Mar 12, 2013 11:31 am
CapeCodCubs wrote:What is a stake spot?
Some seals and bearings are staked into location. The Cub PTO is one example. They are usually a close fit, but not close enough to press into a location and stay there. They can move with time including rotate. To stake 2 parts together I use a prick punch and set it in a spot so it will 'catch" some metal from both parts. A bearing is hardened so the goal is to raise up metal to grip the bearing. A rap with a hammer distorts and raises-up/sinks-in enough metal on both parts so there is a little grip between them. I have a bunch of oddball curved files from my father's aircraft engine toolbox that work well cleaning up things like this.
Tue Mar 12, 2013 11:43 am
Gotcha...I learned something today.

Thanks
Tue Mar 12, 2013 3:56 pm
Dremel
Tue Mar 12, 2013 5:53 pm
Eugene wrote:Dremel
Actually, that is exactly what I decided to try, and I think it is OK. At least they are above where the seal seats, thus if I took out a tad extra metal, it won't effect the sealing. Whereas, if I took out too little and the seal gets dinged as it passes these spots, it will leak. So before I put the new seal in I will double check. Thanks!