Tue Mar 12, 2013 11:23 pm
can you put a wider tire on cub lowboy,than 8.3x 24? without a lot of work.
Tue Mar 12, 2013 11:25 pm
Depending on your rim width, you should be able to mount a 9.5 x 24 without any problem. To go much larger than that, I think you'll need a larger rim.

Bob
Wed Mar 13, 2013 8:14 am
There are a giant set of tires for sale up this way. Off a numbered Lo Boy, but will fit a Cub. Look like swamp boggers to me.
viewtopic.php?f=28&t=77064
Wed Mar 13, 2013 9:20 am
Keep in mind that as the tire gets wider it also gets taller. If you go bigger than a 9.5x24, you will start having problems with ground speed and power. The tractor will go too fast for most jobs and will not have enough power to turn the larger tires.

The numbered Cub Loboys, 154, 185, 184, have a wide turf tire on a 16.1" rim that is about the same diameter as an 8.3x24. These will bolt right on a regular Cub.

If you want to keep the "tractor tires" but go wider, adding dual wheels is a better option.
Wed Mar 13, 2013 9:42 am
I guess the main thing to ask is, what are you trying to accomplish. If you are just using it to work then stay in the 8.3 to 9.5 range. If you want it for looks but not a lot of functionality you can go with what the other guys said.
Here is one I bought that had big tires. One was shot so I replaced them with narrow tires.
Here is my dually, I only use it to pull the spreader or run the hammer mill.
Wed Mar 13, 2013 10:34 am
Barnyard wrote:........Here is my dually, I only use it to pull the spreader or run the hammer mill.....
I think if you need the duals to run the hammer mill you're doing something wrong
.
Wed Mar 13, 2013 10:41 am
Scrivet wrote:

Barnyard wrote:........Here is my dually, I only use it to pull the spreader or run the hammer mill.....

I think if you need the duals to run the hammer mill you're doing something wrong

.
Yeah, I guess that pretty much proves duals aren't needed for 99.9% of the Cub's use. But is is a good place to store those spare tires laying around the barn.
Wed Mar 13, 2013 11:07 am
Yea, we really need to know what you're trying to accomplish. If you are trying to increase traction, going wider is not the way to do it. Wider tires just spread out the weight on more surface contact area and will actually decrease your traction. Narrow tires will have much more traction, but will also sink into the ground due to less surface contact area and higher pressure on the ground.

In my area, I almost have to have high floatation (wide) tires to even get into my lawn in the early spring. Due to the snow melt and high clay content in our soil, my lawn is like a swamp. There is no way I can take the Cub out in the lawn in the spring time, but I have another tractor that is 4x4 with very wide turf tires, so I can go just about anywhere with it.
Wed Mar 13, 2013 11:39 am
Here are some big tires, really great for mowing
These are for sale...cleaning house big time.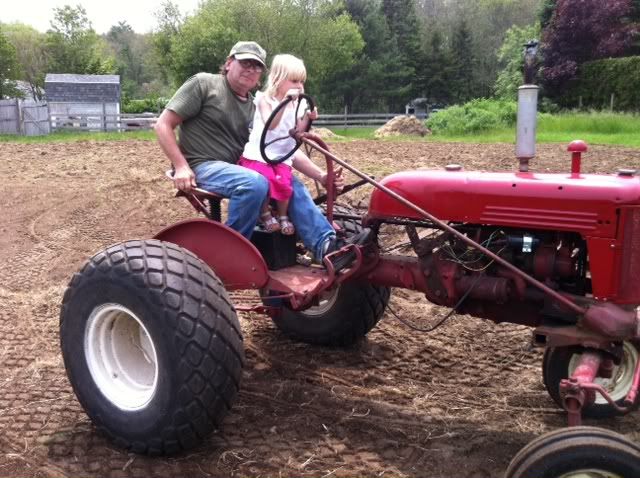 Paid $300 will take $200. One is almost brand new...
Wed Mar 13, 2013 1:55 pm
thank you.I have original ag tires now,ready to go.my yard is all slight hill.have plow which I use in winter,live on private lane with long driveway.have 5' belly mower,just turfs yard cant use.1" to 2" fall to a foot sloping both directions.thinking of turf or wider ag tire maybe I could give my belly mower another try.I do like those monster tires,never though of power loss.always something you over look.your very helpful,thank you Darrell akron ohio.
Wed Mar 13, 2013 2:01 pm
I just read about the newer lowboy cub 16.1" rim.If that bolts on that probably the way to go.genious thanks .darrell
Wed Mar 13, 2013 2:11 pm
Those big turf tires will work nice for mowing, however, you will have traction problems especially on hills. I know I used to mow my grandfather's place with a 184 lo-boy, and if the grass was wet, you'd go sliding! In the spring time we didn't even bother trying to mow the hill at his place.
However, if you're rutting up your yard, those are the tires to use, and yes, they will bolt right up to your existing hubs.
On the other hand, it sounds to me like you need traction for both plowing snow and mowing on side slopes. These big turf tires are REALLY going to hurt you. If you're not rutting up the yard, but you're still sliding around when mowing on the slopes, then you need to add wheel weights and keep the AG style tires! You definitely need wheel weights for plowing snow.
Wed Mar 13, 2013 3:24 pm
I've mowed on hilly terrain with them and never slipped. Never cut on wet grass and that is probably why I never had any issues.
Wed Mar 13, 2013 6:06 pm
I am planning on dual wheels on my rock farm Cub because of the hills/slopes that I mow. But that is a one of these days deal. Of all the Cubs I have or have owned, no two pair are 'matched'.... but I am looking and will find some or trade some one day.
You have pretty much hit on the only advantage of a Cub Lo Boy. They are low to the ground and with the wheels rotated forward they have more weight on the rear wheels, which is an advantage for snow plowing. I never appreciated how different a Cub and a Lo Boy were until I was mowing a slope with a Cub just after having mowed with the Lo Boy... the Cub scared me
You could also gain some stability by setting the rear wheel centers dished out (see operator's manual). With a snow plow they will 'overhang' the width of the blade.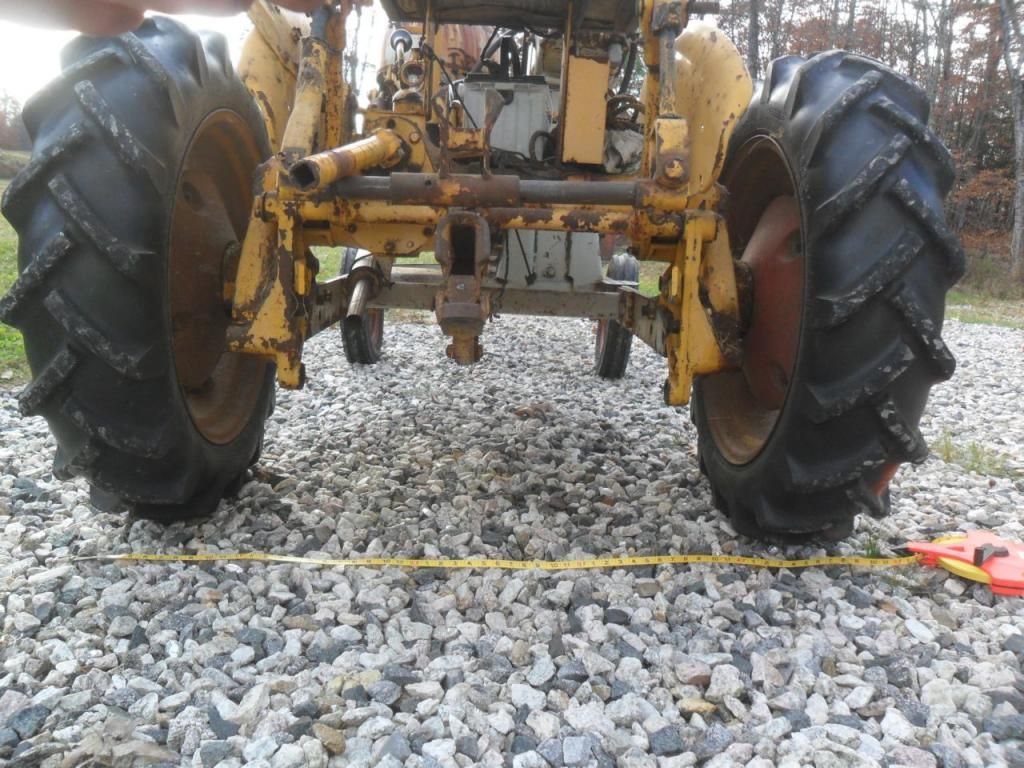 Thu Mar 14, 2013 9:43 am
Neighbors have rolled more than one F-cub mowing fence rows and roadsides!! Dusty B