Fri Mar 15, 2013 9:54 pm
Hi all - We're well into a complete restoration of our 1948 Farmall Cug - Serial Number 21005.
I'm sure someone here knows how to tell if the clutch throw-out bearing is worn out. It is smooth but not flat as I would expect. I tried taking a photo of it but it does show the depression that's all the way around as you'd would expect
Please
Best regards, Ken
Fri Mar 15, 2013 10:00 pm
A depression is normal on a used bearing. Does it have pieces broken out/ how much graphite is showing past the housing? Here is a new one form Tm Tractors website for comparison.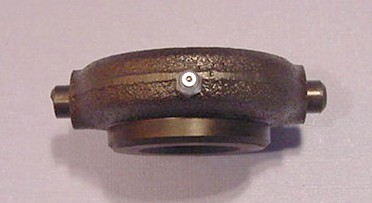 Fri Mar 15, 2013 10:10 pm
Thanks for the prompt reply with photos. The graphite portion is slightly thinner than what's shown in your photograph, but not by much. I think we're good to go as is - or as we're doing with so much of this tractor - Hey we've got it apart why not change it so it's new? I wonder?

Thanks again, Ken
Fri Mar 15, 2013 10:12 pm
Ken:
G'day to you and congrats on being the proud keeper of a '48 Cub. Ellie my '48 is my go to Cub ,,, and they can get addictive.
Clutch TOB wearing ... advanced search of the forum archives =
worn clutch tob
Suggest you take a bit of time and become familiar with the [urlhttp://www.cleancomputes.com/Cub/Cub%20Owner's%20Manuals/index.html]Owner's Manual[/url] and the
Service Manuals
. The
GSS-1411 Service Manual for Cubs and Lo-boy Tractors Revision 1 Section 5 - Engine Clutch
should be of help.
to Farmallcub.com

Forum Family. And you have come to the right place for all things Cub related. If you click on the

Site Rules, Regulations, & Important Information

, it will point you to

the

Welcome Wagon

wherein you will find links to many useful sites and topics. One of which is the

Cub Manual Server

. Enjoy!.
Fri Mar 15, 2013 11:13 pm
Ken, There are aftermarket TO bearings that tend to quickly fail. They also need to be filled with a low temp grease so the grease can permeate the graphite and lube the face. A lot of guys soak them in oil before insertion. While you are in there, check and make sure the adjustment on the 3 fingers is correct and all the same. Welcome to the Forum.

Bob
Mon Mar 18, 2013 11:25 am
If the current TOB is showing nearly as much graphite as the one in the picture, I would leave it and use the money for some other portion of the restore.
pvf1799 wrote: Hey we've got it apart why not change it so it's new?
I had the same feeling, but at $65 a pop, I decided that based on the amount of wear (a bit more than you describe) it was good for at least another 10 years.
Mon Mar 18, 2013 11:35 am
Michael, based on what we've found as we've gotten more of it disassembled - the TOB will remain as is. It's nicely and evenly worn.

Best regards and thanks so much for posting to my question.
Mon Mar 18, 2013 4:49 pm
You are most welcome, pvf. Just remember to grease the TOB. This is one instance where you want to use the cheapest grease. The graphite wicks the oil out of the grease, and the cheaper greases seem to work better.