Fri Mar 29, 2013 9:25 pm
The issue should be apparent. 20 years of sitting in the barn, rust/sludge in the coolant system ate through the housing. Hole is about 3/4" wide at the widest points. Need to fix it somehow.
It's right under the crank hole bridge on the other side. Further complicated by a slight ridge going to the petcock drain.
Weld? Braze? JB Weld? Seal off with a bolt through and a thick rubber washer? Would you patch with a plate? Or drill a a hole through it to make it round and then affix a plug to it (braze/solder/weld around plug). Metal around the hole is fairly good. Looks to just be this spot.
Sorry there's no pic of the other side.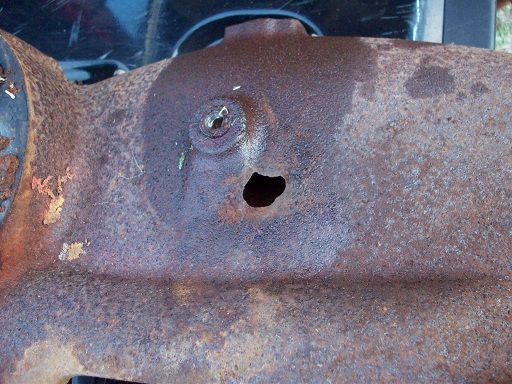 Fri Mar 29, 2013 9:29 pm
I'd buy a replacement bolster.
Fri Mar 29, 2013 9:34 pm
Being the cheap*** I am, I'd wire brush both sides, cover the bottom w/a strip of duct tape fill the hole w/JB weld! Might even coat the inside w/an epoxy after the JB weld had set up as double insurance. Dusty B
Fri Mar 29, 2013 9:42 pm
Buy another bolster. Problem with rust outs is that the remainder of the metal is probably also thin. Patch one hole and shortly there after another hole appears.

If you think the metal is thick enough, Set metal patch over hole from inside then braze at least an inch larger than the hole. Turn over and braze from the outside.
Fri Mar 29, 2013 9:44 pm
Rick Spivey wrote:I'd buy a replacement bolster.
and i am cheep too.
Fri Mar 29, 2013 9:49 pm
It's not that bad guys. It's solid around the hole. I don't know why it just rusted out right here. But there seems to be enough around it to work with.

The rust on the inside is a separate issue. It will have to be removed, cleaned, treated, sealed, etc. An issue that will be addressed before reassembly.

Where's your sense of restoration? It's the original '48 housing. Complete with the serial # tag of course.
Fri Mar 29, 2013 9:51 pm
Buy a parts cub, take the bolster, sell the rest of the good parts, scrap the rest and make a couple bucks.
I am really cheap, er, frugal.
Fri Mar 29, 2013 9:53 pm
Interesting that the picture of the radiator support housing on DE Farmall Cub just happens to be an R casting.

Also interesting that the drain hole is different. Perhaps the petcock drain mine had was an "upgrade" by one of my ancestors.

$250? I can do a lot of repairing for that.
Sat Mar 30, 2013 5:50 am
There are less expensive used bolsters to be found. If you really want to fix it, then the brazing route is the most secure for the long haul.
Sat Mar 30, 2013 7:23 am
I would fix Great Grandpa's Cub in a heartbeat if at all possible rather than using the throwaway mentality, this is not a new toaster! If everything else is sound and just the one hole are you sure it wasn't "made" and not rusted through? Maybe it got broken out by something and parked because didn't have time or need to fix right away and that turned into twenty years? Add another story to Great Grandpas Cub, how you fixed the hole.

And if it doesn't hold you can always replace it later, but if the original goes to scrap it's gone.
Sat Mar 30, 2013 8:28 am
You could try one of those rubber expantion plugs they sell to replace freeze plugs in engine blocks. Not sure what sizes they come in but looks like they would work. heavy piece of rubber with washer on both sides and a bolt with a nut through the middle. tighten the nut and squish the rubber to seal the hole.
Sat Mar 30, 2013 10:10 am
[quote][/quote]Either braze or use cast iron weld and install a thicker steel plate were the cast iron in the bolster is still thicker. You could also drill and tap a plate over it too and use the high temp silicone to seal it.
Sat Mar 30, 2013 10:13 am
Btw that's the spot and area where the water will sit and rust thru.
Sat Mar 30, 2013 11:12 am
dieseldennis , i havent checked how far brandon is from walker,la. , but if your ever out this way soon enough , i can braze it for you . i do charge a iced tea an hour . coppersmythe....................................PS : what i have been guilty of using , is a two part epoxy that my brother the boat captain swears by from experience . it comes in a tube, looks like playdough , and will cure underwater . it works ,and when painted over , looks just like cast iron . ( FULL DISCLOSURE AT TIME OF SALE )
Sat Mar 30, 2013 3:12 pm
Too bad your not close to me too. I'd help you out too. BB

Seeing this tells me we need to drain a little from the bottom plug to keep this from happening to our cubs. Or add some radiator conditioning rust free stuff to it. I think the older water pump lube had the rust preventor in it. I have some texaco stuff somewhere.