Sun Feb 24, 2013 8:50 am
I like it! But that hood has got to go. Great catch. Steve K.
Sun Feb 24, 2013 5:53 pm
Great find! I just got a 1000 loader presidents day, I put it it on and its ton of fun. Lots of chores just got easier
Sat Mar 02, 2013 11:01 am
IHfarmer wrote:Great find! I just got a 1000 loader presidents day, I put it it on and its ton of fun. Lots of chores just got easier
Glad you found one and got it working now I have some one I can ask questions.
Have you had a chance to work the loader yet. I'm hopping I will be able to lift 800-1000 lbs with it (setting logs).
I had 2010 MF subcompact that just let me down. 800#s was it absolute max and that was pushing it..
I might a a hood but its a cub not Lo-Boy so the exhaust will go out through the hood. That's ok I like that look better.
If the hood falls thru I have a plan to make this one look better.
Weather should start getting better around here so I hope to get some progress along with videos going.
Thanks
Mike
Haverhill, MA
Sat Mar 02, 2013 11:07 am
vwfoolwhy wrote: I'm hopping I will be able to lift 800-1000 lbs with it (setting logs).
Even with dual weights on it I wouldn't expect it to pick up that much weight. The capacity is only 450 pounds. I have unloaded railroad ties with mine and found it a little bouncy.
Sat Mar 02, 2013 11:28 am
Even if it would pick up that much, think about the front axle and cracking motor ear or bolster. Would be better on larger tractor (SA, 100series). BTW, lucky you for finding a loader, my grandson would LOVE for me to have one!
Sun Mar 03, 2013 8:25 pm
It's a Cub. They were never intended to lift that kind of weight. It will do fine if you respect the spec's.
Pretty much a wheelbarrow that won't tip over. Very useful.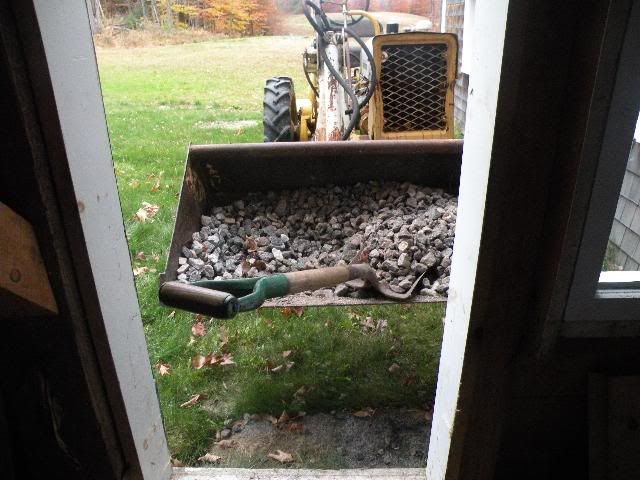 Mon Apr 01, 2013 3:19 pm
Sorry for the lack of updates. Between the weather and being sick I haven't had much time with the cub.

After letting the cylinders sit with oil for a week or two I hooked up a battery and tried starting it. Unfortunately it wouldn't turn over so not wanting to force it I puled the head off.

What I found is two stuck valves with a good amount of carbon build up on them. The cylinders all look good and seem to be free. The plan is to pull the valves replace the guides, Clean the valves and replace if needed. Pretty much do a in frame refresh. The engine as been done before it appears to be bored 30 over and the valve look to have been changed already.

Every thing came apart real easy with out any problems. the only snafu was the the radiator hold down bolts being an odd size both standard and metric did not fit so care was taken when removing but they all came out with out heat or breaking.

I hope to have a video up soon.

Mike
Haverhill, MA.
Mon Apr 01, 2013 3:41 pm
Weird, the radiator bolts were all a standard 1/2" hex head on mine IIRC.

Some of them required a thin-walled socket due to being so close to the radiator frame, and a really long extension.
Tue Apr 02, 2013 7:31 pm
I'll have to show how off sizes they are in the video.
One other thing I discovered is it was changed over to a 12v system with a 12v Generator.


Mike
Haverhill, MA.
Wed Apr 03, 2013 5:17 am
good morning mike from the deep south, man, what a find . and the best part is you saved it from going to the scrap yard
. congrats on the tractor/loader . have fun with it . coppersmythe.........................................ps: i try not to think of all of grandpaws "junk" that ends up thown away across this country.
Wed Apr 03, 2013 4:41 pm
I see a major problem with this tractor! It isn't sitting in my yard
I can pick it up anytime, I am not too far from you and will even give you more than you paid for it... how about $355.00?
Thu Jul 04, 2013 10:14 am
Here is an up date Video along with a look at another tractor that made It's way home with me...
https://www.youtube.com/watch?v=RK0nlQW ... ata_player
Tue Jul 09, 2013 9:26 pm
Parts are starting to come in for the cub. Getting excited to see this old girl up and running again...

Unfortunately the Case 210B now has the head off. More of that in the next video...
Fri Jul 19, 2013 11:18 pm
Valves all clean and look really good so I think I'm going to lap these back in...

Gaskets came in so I'll spend done time trying to get the keeper out the oil drain plug. Sure hope it does don't really want to pull the pan...

New video on Monday...