Wed Feb 18, 2009 9:30 pm
I have a 129 .I'm not sure of the yr. I have to run the serial number. I have two manual pto clutches. Neither of which I have been able to make work.I bought the kit to rebuild the one that came with the 129 when I bought it .I did a rebuild and set the clutch up as per the instructions and double checked everything and even downloaded and printed a rebuild instruction sheet with pictures.
But no luck ,I even bought one off CHEAT BAY, that ones no good either.
What my question is has anyone ever installed an electric clutch like the modern yardtractors have. I tried the search Function and read all 26 pages but I have never did see this question ask.
I like my 129 and the deck, it does a nice job of mowing,if I could just resolve the clutch issue.
Thanks
Roger
Wed Feb 18, 2009 10:35 pm
You can't use the electric clutch mainly because the crankshaft pulley for the starter generator is in the way, and the block is probably not drilled for the clutch mounting bolts. You would have to use an engine from a quietline (1200, 1250), a K301AQS if you want a 12 hp engine, that has a flywheel with a ring gear and an automotive type starter. It would also require some wiring mods because of the charging system. Why don't you go over the clutch you rebuilt again to be sure you didn't miss a step. If you used the Cub Cadet rebuild kit and the adjusting gage that came with it, and everything is adjusted and set correctly, it should work like a new one.
Wed Feb 18, 2009 11:17 pm
I've rebuilt several manual PTO clutches. No problem as Paul B states.

Wear button on the lever that depresses the clutch button? If the clutch is set up correctly - replace the button on the lever.

Clutch set up correctly, new wear button, - linkage adjusted on the side of the tractor?
Thu Feb 19, 2009 8:19 am
Those PTO clutches are almost bullet proof when they are rebuilt correctly with new springs. The 129 had a clutch with a brake after SN482000 & up
SN481999 & below
Item 12 is different and you must have the correct one with the correct PTO. I think the top one uses a different gauge then the bottom one. Those springs work like the old oil cans an if you get it to tight they don't work. BTDT so if every thing checks out and it don't work back off the three screws one turn at a time.
You want to look at item 14 on the bottom one and make sure that has no burrs as that will wear out item 13 real fast. I don't know if the upper one works like that but watch for torn up parts.
Thu Feb 19, 2009 3:55 pm
Thanks Guys
For the suggestions so far. It did wear out a brand new Brass Button item 13. I will retreat and regroup and go over all settings.Take it apart completely and start over. Its possible the person that sold me the kit ,sold me the wrong one. But unfortunatley that CUB Cadet dealer is out of business.They were very knowledgeable people but We all know that we all make mistakes.
I never did get either one of my clutches to work. The one I bought on ebay I found out why it was on ebay after I received it, the 2 of the 3 holes for the set screws were striped out. I just may drill em out and retap em and try that clutch as is and see what happens.
Thanks I will watch this thread for further suggestions.
Roger
Thu Feb 19, 2009 6:21 pm
Item #13 is some type of hard fiber material.

Case IH dealers can get parts or have parts on hand.
Thu Feb 19, 2009 7:50 pm
There are 2 different styles of #12 (PTO clutch rockshaft assembly).
With brake: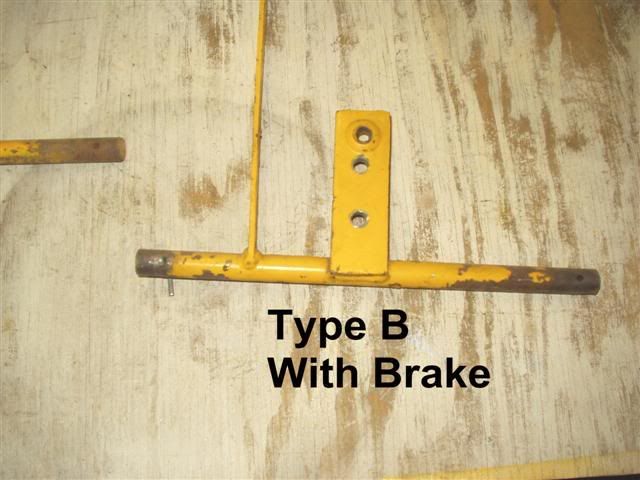 Without brake: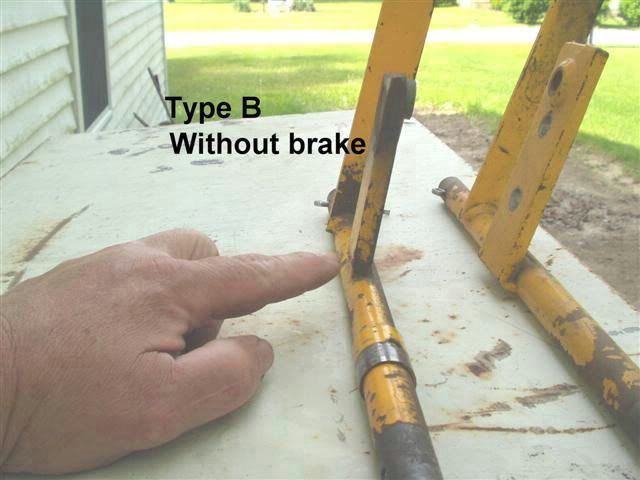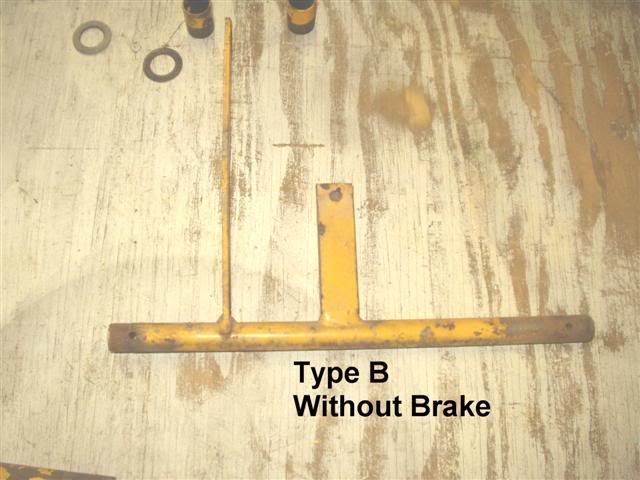 Notice the difference where the 2 parts are welded together? The brake style rockshaft assembly will not work on a non brake pto clutch.
Thu Feb 19, 2009 8:03 pm
Does your pto rockshaft assembly have the bushing(#27) in it?
There should be a slight drag on the dollar bill when pto clutch is engage.
Another area to check is the #17 (bearing with ring).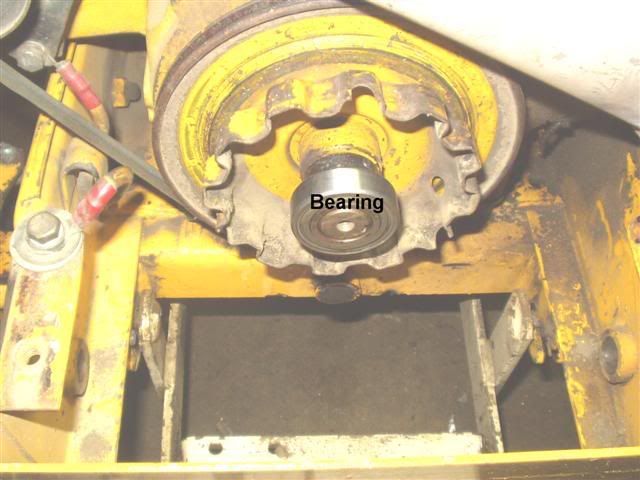 I thought I could save a few dollars and buy a cheap aftermarket bearing. It didn't work...too much drag in the bearing.
This is a MUST when working on your Cub: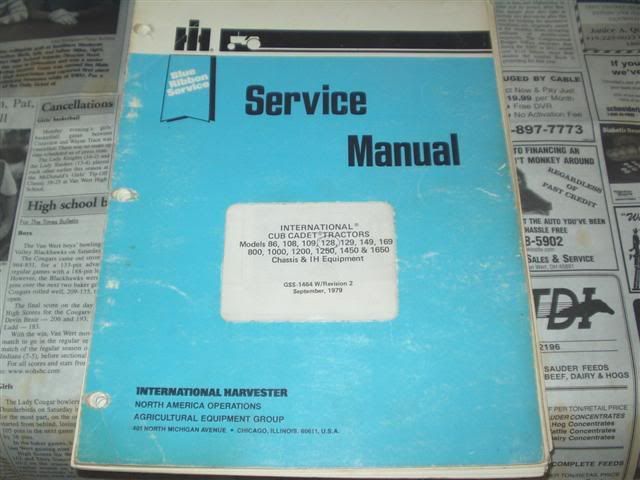 Thu Feb 19, 2009 10:23 pm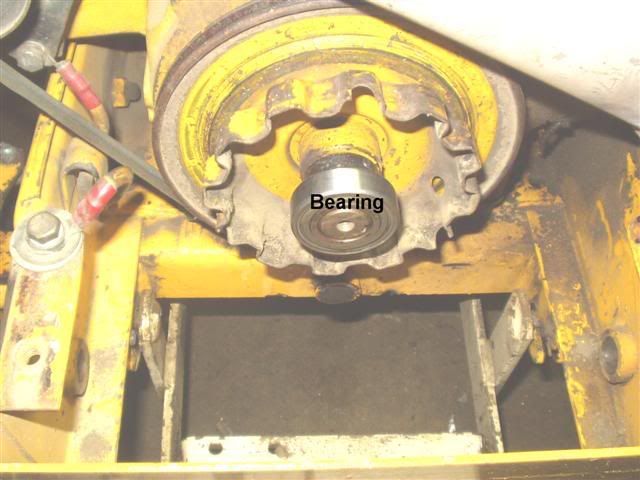 It don't take much of the shaft sticking out of the bearing till the clutch won't have enough room to disengage and will never work.
Fri Feb 20, 2009 12:10 pm
I put a new fiber button on my 127 and adjusted the gap like you have with the dollar bill and it woudn't release when disengaged. Was reading a suggestion to another guy by Steve Blunier and he mentioned adjusting more gap there. I tried that on mine and now it releases fine. For some reason it was pressing too far on the center button and was then locking the clutch back in.

Keith
Sat Feb 21, 2009 10:02 am
Lots of really good suggestions I had adjusted the button clearance just as you did with a dollar bill and had a new fiber button and then went to a new brass button that melted. So when the weather gets nice I will go back and review everything that you guys have suggested. I am sure I have made a mistake somewhere.
Thanks
ROGER
Sat Feb 21, 2009 10:09 am
I have to look into this too, my gray fiber button on my release clutch lever seems to be wearing out very fast on all my 3 mowers for some reason. I do set it on the very edge of just releasing too so its not over pressured. I'm sure these buttons should last longer than 2/3rds a mowing season. Plus i switch tractors alot to run them too. This has to be the weakest link on this machine or i'm doing something wrong.
I did notice on one the lever isn't lined up inline with the clutch centerline so the button runs out of line like offset to the centerline.
I wonder if there is any crap inside the clutch after all these years that can be making it bind?
Sat Feb 21, 2009 11:13 am
The "book" says with the clutch fully engaged (lever forward) insert a match book cover (1/64") between the two buttons and adjust the turnbuckle on the engagment rod until there is a slight drag on the match book cover. Make sure there is no other slack/play in any of the linkage. In other words, there should be about a 1/64" gap between the two buttons when the clutch is engaged. The book also recommends that the clutch be left engaged when using the tractor, AS LONG AS THERE IS NO BELT ON THE CLUTCH, to prevent unneccessary wear to the buttons.
Sat Feb 21, 2009 1:59 pm
Merk
I'd love to have a Service manual but I'm pretty sure they are not available. But If you know where I can get one I'd be glad to have one.
Roger