Thu Jul 16, 2009 6:34 pm
Can a Cub run a brush hog, does it have enough power to cut down 3 months growth of weeds, thickets and small saplings?
Thu Jul 16, 2009 6:49 pm
3 months growth? I'll say yes. I have used a Woods42 to do some pretty serious mowing, way more than 3 months thick growth. I would do a complete ignition tune-up and adjust the valves before trying it. And sharpen the blades on the mower. If your Cub is in good shape otherwise, I think you'll find it can do the job. You might not do it real fast, but you can get it done.
Thu Jul 16, 2009 6:53 pm
I agree with Trent, your Cub should be in top shape to handle the heavy green stuff.
Here is a post with video of Song mowing with his Cub. The stuff looks pretty high to me, more than three months worth.
Don't recommend pushing the limits of the center of gravity of the tractor though!
viewtopic.php?f=1&t=43040&hilit=+mower
Thu Jul 16, 2009 7:25 pm
I have cut through much worse than in Song's video. Late last summer, I cut 3/4 of an acre with Russian olives 7 ft tall in clumps with multiple trunks the size of your thumb. I didn't mow along fast and steady, but I got it done. I wanted to see what the "new" LoBoy I had bought had, plus I needed it mowed for a deer food plot. I was very pleasantly surprised with my '55 LoBoy and Woods42.
Thu Jul 16, 2009 9:29 pm
If you are talking about a standard pull type Brush Hog, no. PTO turns the wrong way and too fast, but with a Woods 42, or International C2, or Mott flail, it will do the job
Thu Jul 16, 2009 10:07 pm
On top of what the others said, I would add that you may want to raise the mower for the first pass. I have cut some serious stuff with a C-2 mower.
Thu Jul 16, 2009 10:46 pm
John *.?-!.* cub owner wrote:If you are talking about a standard pull type Brush Hog, no. PTO turns the wrong way and too fast
Very good point. Question: Wouldn't a Cub equipped with a PTO reducer/reverser handle a 4-ft pull-behind brush hog? I haven't tried it, but plan to if I can find a good mower.
Thu Jul 16, 2009 10:54 pm
Don't forget the model 412 bush hog
Fri Jul 17, 2009 4:48 am
Horsepower. I have a 34 HP diesel that just makes it with a 6 foot brush hog. According to the dealer I am a little under HP for that size hog.
Fri Jul 17, 2009 11:09 am
This was a few months worth of Johnson Grass, took me a couple passes and went slow, taking only about 1/2 a mower width in the thickest spots. Also had just replaced the blades, as the old ones were totally shot. Most of the grass was as high as the hood, with the seed heads being above my head.
Dave
Fri Jul 17, 2009 11:19 am
Depending on how many and how large the saplings you may want to cut them with a chain saw and remove the debris. I went over small 1-2 inch saplings with my Mott flail mower. It did chop them off, but rough. I agree to raise the deck the 1st pass. Also, you can make partial passes where then entire mower isn't cutting. I was able to mow grass up to the head lights just as Dave posted.
Todd
Fri Jul 17, 2009 12:15 pm
I have mowed grass with seed heads higher than the hood with a woods 59 inch. I mowed about 6 inches off the ground on my first pass, and the 3 blades were freshly sharpened. It cut small saplings too.
Was not a problem for the mower.
Sat Jul 18, 2009 5:54 am
That was a close call in the video fur sure it amazing how flat the ground looks and then wamm
darn near flips over........... Any way Songs Cub was cutting really nice any one know what type mower Song has and is it a brush or finish mower? I have done brush cutting with the LoBoy and Woods 59 and its a struggle on the Cub I am blaming that on the Woods 59 since its a finish mower and not a brush hog, so may be I would like something other than the Woods 59.
Thanks for all the replies
Sat Jul 18, 2009 7:41 am
It looks like a Woods 42. Like John said either that, a C-2 will work well, with a Mott flail just behind that. The Woods or C-2 is what would generically be called a brush hog and they can cut pretty much anything you can get under them (including granite
). A Woods 59 is 'finish' mower, really intended for lawns and it is quite a bit wider so they take a much larger cut.
This is the new blade for a C-2: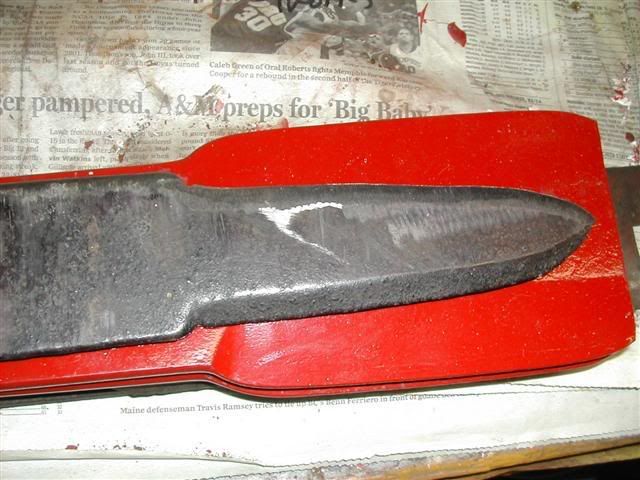 All 3 come in fast hitch versions too... Cecil just picked up a nice one: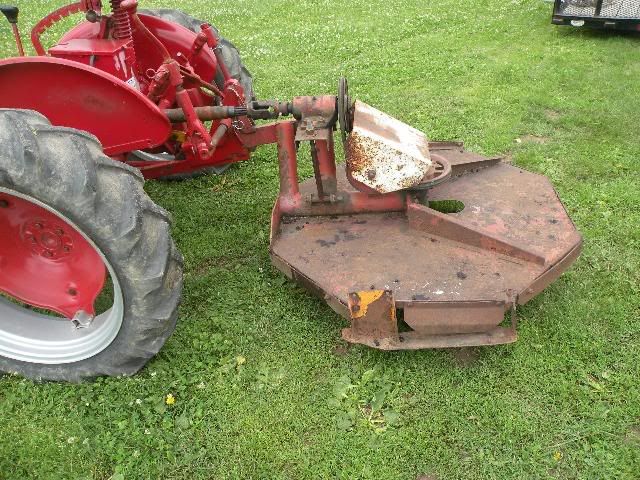 Sat Jul 18, 2009 8:49 am
Nice pics
, somebody got their monies worth from the old blade
can blame them Ive done simalar too....... I think a mid mount C-2 is what I need or want, just curious how good a rear mount fast hitch handles the uneven terrain seems to me with a down force lift as in no float it
would be difficult...