Redfox:
I gotta agree with Andy and BD.
redfox wrote:Noticed I have a fairly good leaking sediment bowl. No cracks that I can see in the bowl. I was thinking a rubber gasket, but then, I noticed if I shut the fuel valve,

it still leaks until the bowl is empty

(though it leaks more slowly as the bowl empties).
That is a cracked bowl. I happen to have one of them critters.. well more than one
On the first bowl I could not see the crack until I cleaned it real well and then sprayed a little carb cleaner in it. It was sitting on a paper shop towel and within a very short time the bowl was empty and the shop towel was wet. Ergo there had to be a crack.. looked much closer and right at the bottom of the bowl just where the screw cap meets the bowl is where it was cracked. Very tiny, but it was enough to leak fuel. The second one, after I cleaned it, the crack ran around the circumference of the bowl from just above the bottom in an inclined line to 3/4 of the way up the bowl. Again you could not see it when the bowl was dirty, but when cleaned.. it became visible.
This is what you need. Tom has great parts and good prices coupled with supreme service. You can't get much better. They are also available at your local CaseIH Dealer, but make sure they give you the one for Cubs/A's and not the one for a Ford
Don't ask
counterperson. (Kevin disregard this
)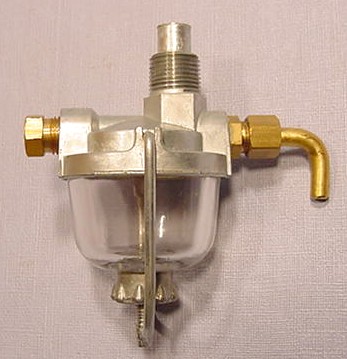 Stock#
FL314
Price:
$ 37.38
Fuel Strainer Assembly
These are the other two items that come with the Assembly..
and the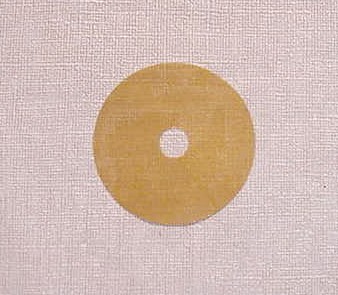 Stock#
FL392
Price:
$ 2.00
Fuel Strainer Gasket
Stock#
FL235
Price:
$ 2.48
Fuel Strainer Screen
.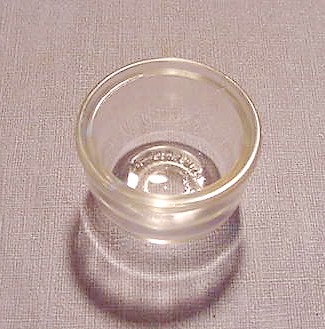 Stock#
FL186
Price:
$ 12.68
Fuel Strainer Bowl
Now add that to the cost of a new shuto-off which I think is around $6.00 to $8.00 US, you are just as far ahead to get a new assembly. Keep what is good after a good cleaning for spare parts.
What I do is substitute the L-shaped shut-off valve with a 1/8" Ball Valve. I find it is easier on my fingers and it eliminates leaking entirely.
I think the best thing to do is to get a new Fuel Sediment Bowl Assembly from TM or CaseIH, your preference. Judging on what I just saw the other day on a fuel sediment bowl off of a Super A I am working on, convinces me that any tractor that has set a number of years with old fuel in the tank absolutely needs a new Fuel Sediment Bowl Asssembly just to be on the safe side.