Tue Jul 20, 2010 12:33 pm
Just got around to opening up my 1947 IH Carb and found that items 14 and 17 (on the exploded diagram) are missing. Probably why it doesn't run well. Also, the one of the supports for the float axle is split. Anyone have spare parts? Any help much appreciated.
Wed Jul 21, 2010 5:40 am
The most complete kit is available at TM Tractor -
replacement carburetor overhaul kit aftermarket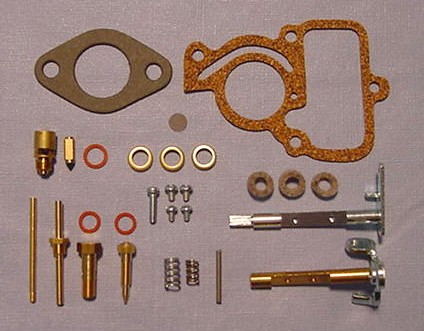 The float axle bracket can be fixed with JB Weld. Just use it sparingly so there is not too much goobering.
Also, here is another thing you can do. I have made dust shields from other products that have similar material. Floor savers are similar and if you have a set of hollow punches you can make a set. A little practice gets them close. The drip hole filter can be made from the same material and you can use a thin washer as a keeper.
Wed Jul 21, 2010 7:38 am
Messick's lists both parts as currently available from CaseIH.
http://www.messicks.com/partsearch.aspx
Wed Jul 21, 2010 1:23 pm
Thanks for your help. On this diagram the missing parts are 10 and 30. what is the part number for 30?

I will try the JB Weld.
Wed Jul 21, 2010 4:28 pm
crhabeck wrote:what is the part number for 30?
There are several numbers.
Wed Jul 21, 2010 6:44 pm
Thanks, unfortunately Messick's doesn't have any of them.
Thu Jul 22, 2010 6:23 am
Item #10 is the idle tube, it was probably broken off. It's included in the kit from TM, shown above. The main air bleed is not usually removed during carb service, are you sure it's not in there? Since your tractor is a 47, it would likely be the first one in the parts list.
Sat Jul 24, 2010 4:56 am
Your right, it is broken off.