Peach Baked Alaska Loaf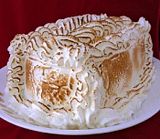 Peach Baked Alaska Loaf
1 (1 pound) Pound Cake
1 quart Peach Ice Cream
8 large egg whites
1/4 teaspoon cream of tartar
1 cup powdered sugar
Spiced Peaches and Raspberries
Line baking sheet with wax paper. Cut pound cake horizontally into 3 equal pieces. Place bottom layer of cake on prepared baking sheet.
Remove ice cream from container. Cut ice cream horizontally into 4 inch-thick slices. Place one ice cream slice on first cake layer, top with second cake layer. Repeat two more times. Cover cake with plastic wrap and freeze until firm, at least 3 hours.
Beat egg whites and cream of tartar in large bowl until soft peaks form. Gradually add sugar; beat until stiff peaks form, about 4 minutes. Using off-set spatula, spread meringue over cake, covering completely. Freeze until firm, about 3 hours. (Can be made 1 day ahead. Keep frozen.)
Preheat oven to 450°F. Bake until meringue is light golden, about 2 to 5 minutes. Serve with Spiced Peaches and Raspberries.
-------------------------
Pound Cake
3 large Eggs
3 Tablespoons Milk
1 1/2 teaspoons pure Vanilla Extract
1 1/2 cups sifted Cake Flour
1 teaspoon Baking Powder
1/4 teaspoon Salt
3/4 cup Sugar
13 Tablespoons unsalted Butter
Preheat oven to 350 degrees F and place rack in center of oven. Butter or spray with a non stick vegetable spray, a 9 x 5 x 3 inch (23 x 13 x 8 cm) loaf pan. Line the bottom of the pan with parchment paper and butter the paper. Or dust pan with a light layer of flour.
In a medium bowl lightly combine the eggs, milk, and vanilla extract.
In the bowl of your electric mixer (or with a hand mixer), combine the dry ingredients (flour, baking powder, salt, and sugar) and mix on low speed for about 30 seconds or until blended. Add the butter and half of the egg mixture. Mix on low speed until the dry ingredients are moistened. Increase the mixer speed to medium and beat for one minute. Scrape down the sides of the bowl. Gradually add the remaining egg mixture, in 2 additions, beating 30 seconds after each addition.
Scrape the batter into the prepared pan and smooth the top with an offset spatula or the back of a spoon. Bake until the cake is golden brown and a toothpick inserted in the center comes out clean (about an hour). If you find the cake browning too much as it bakes, cover with a piece of lightly buttered aluminum foil after 30 minutes.
Remove the cake from the oven and place on a wire rack to cool for about 10 minutes. Remove the cake from the pan and cool completely on a lightly buttered wire rack.
Will keep, well wrapped, several days at room temperature, about one week when refrigerated, or it can be frozen for two months.
Makes 1 (approximately 1 pound) loaf
--------------------
Peach Ice Cream using Still-Freezing Method
5 cups ripe peaches, peeled and chopped
6 eggs, lightly beaten, at room temperature
2-1/2 cups sugar
2 tablespoons all-purpose flour
1 tablespoon vanilla extract
dash of salt
4 cups whole milk
3 cups heavy cream (whipping cream)
In a blender, puree 3 cups of the peaches. Mash the remaining 2 cups of chopped peaches with a potato masher. Set aside.
In a large bowl, whisk together the eggs, sugar, flour, vanilla and salt until well blended. Set aside.
In a large, heavy saucepan over low heat, heat the milk and cream, just until it begins to steam. Pour a little of the heated mixture into the egg and sugar mixture, and stir. Then pour the bowl of egg/sugar/milk mixture back into the heavy saucepan. Continue to cook over low heat, stirring constantly, until mixture is thick and smooth. Remove from heat, and refrigerate the mixture for several hours or until well chilled.
Add the pureed peaches to the chilled mixture, stir well. Then, add the reserved 2 cups of mashed peaches, mixing well. Place the prepared mixture in 1 or 2 shallow metal pans, such as cake pans. Place in the freezer until firm around the edges, but still slushy in the middle, usually about 20 to 45 minutes.
Remove the pans from the freezer and stir the firm and liquid portions together with a wooden spoon. Return to the freezer until the mixture is again firm around edges. Repeat this step 1 or 2 more times until it is uniformly frozen the last time. Let the mixture soften slightly in the refrigerator before serving.
Makes about 3-1/2 quarts.
--------------------------------------
Spiced Peaches and Raspberries
1 3/4 pounds Peaches, peeled, halved, pitted, sliced
1 Tablespoon fresh Lemon Juice
1/4 cup Spiced Peach Jam, melted
1/4 cup Sugar
2 half pint baskets fresh Raspberries
Toss peaches with lemon juice in medium bowl. Add jam and sugar, toss again. Let stand 10 minutes to allow flavors to blend. (Can be made 4 hours ahead; cover and refrigerate.) Add raspberries and toss gently.
----------------------
Spiced Peach Jam
6 cups peeled and chopped Peaches (about 2 1/2 pounds)
3 cups Sugar
1 Cinnamon Stick
3 Tablespoons Lemon Juice
1/2 teaspoon Cardamom
1/2 teaspoon Nutmeg
Place all ingredients in a large heavy pot; stir to combine. Bring to a rolling boil over medium-high heat. Boil, stirring occasionally, 15 minutes, adjusting heat as necessary to maintain an even boil. While it is boiling mash the peaches with a potato masher to desired consistency. Continue boiling, stirring frequently, until slightly thickened (around 10 minutes more). Remove from heat and remove cinnamon stick. Pour into 4 sterilized 8 ounce jars. Carefully wipe jar rims and cover. Jam may be made and refrigerated for 1 month. If you want to can it you need to water bath for 5 minutes.
Enjoy! Thanks; Virginia