Tue Nov 09, 2010 12:34 am
Hey guys. I totally restored this cub about lil over 2 years ago for a friend. Well now its made its way to my collection. I am having a problem deciding weather to keep or sell. When restored it was a total one.All the best was used. Engine totally done right. every gasket and seal replaced in the whole tractor along with a lot of bearings. It has a petronix ignition. It is also converted to 12 volt neg ground.From my recent experionces there isnt much interest in loboys.Or is there? wha ya think>???
Tue Nov 09, 2010 1:27 am
Clark, I am a big guy and so I personally do not like operating the lowboys
BUT
I do like the way the Y&W and all Yellow round nose ones look.
Tue Nov 09, 2010 5:51 am
just beautiful ! i have been looking to buy another cub , been taking my time, looking for the right one. several of the people i have delt with have said the same thing. they put an ad on craigslist/local paper, months go by with one, maybe two calls, one low ball offer.one in particular has been on craigslist since summer, still there. its a tough time to sell, but give it a shot.it might suprise you. down here,pretty nice cubs in good shape go for $1000 - $ 1500, when they sell. i check craigslist every day ( wife just shakes her head, little does she know ,the next cub his hers!
i wonder if i COULD make myself sell it, thats a nice tractor. coppersmythe.................. ps : price vs patience.
Tue Nov 09, 2010 6:39 am
Looks like one of the George Willer Twins--one yellow/white, the other red/white.
Good Lookin' Cub
Tue Nov 09, 2010 7:00 am
i will be in the market for just this type tractor, soon. but price range maybe a factor. i also love them round nose lo boys.
Tue Nov 09, 2010 7:08 am
Round nose lo-boys are the best. Its gorgeous Clark
Tue Nov 09, 2010 10:14 am
Me thinks that would look nice in my barn. Although I was really looking fer RED.
Tue Nov 09, 2010 12:52 pm
Thanks for the comments so far. I know times are tuff everywhere. This cub isnt a $1500 cub. There is that much into the engine! I like the looks of how its painted as well but I have too many cubs now! But right now I doubt I would get even close to what it is worth.Wish I could figure out how to resize the picture so it shows the whole tractor too! If anyone knows how please go ahead and fix it.
Tue Nov 09, 2010 3:36 pm
Clark - it is indeed a nice tractor but you will definitely have a hard time getting out of it what you have in it. Unless you are ready to take a loss on it you will probably be better off to keep it.
Tue Nov 09, 2010 3:56 pm
I agree with Darrell. I wouldnt even consider to make an offer, as i would not want to offend you. Though i have not seen your work first hand. The pictures i have seen clearly illustrate dedication and talent to your work. Having paid someone else to go through 3 Demo's and replacing everything you are talking about, i know the expense, but am not willing to spend that at this time. But would still love to add it to my stable.
As i need a mowing tractor, and prefer them to be yellow.
Tue Nov 09, 2010 6:12 pm
I am not easily offended.
Untill last year I had no problem getting 5K or better for a totally restored Farmall cub.I didnt sell any in the Ohio / Pa aeria. It was all in new England or far south or far west even one went to Ireland and usually the buyers were people that knew what it cost to restore a tractor properly.All appreciated the quality work with no corners cut.I have to say for the time and money I put into them I just broke even. But Im not into it for the money I really enjoy restoring tractors.Especially cubs.Thats why I have been doing it for sooo long. If I was into it for the money I would have to dubble the price. The few tractor restoration shops that I know of that do quality work charge upwords to $80.00 per hour plus parts.Most all of us guys on this forum are into it for the fun of it and part of the fun is to find a running cub cheap! $500 or less.I have found a few in the past 30 years like that but realistically you dont find them that cheap. Most all cubs bring $1200 or better if they run. But even if they run they maybe a piece of junk! There are quite a few people out there that want to have a cub to take to parades and shows but they want it restored. they dont want to do it because they dont know how or dont have the time.So this loboy being restored like it is and the cost of restoring it I would set a realistic selling price of $4500.00 with the mower and grader blade. I know if a restoration shop restored this tractor it would be a lot higher priced. Most on this forum would never spend that much but in this case you get what you pay for.
Tue Nov 09, 2010 6:26 pm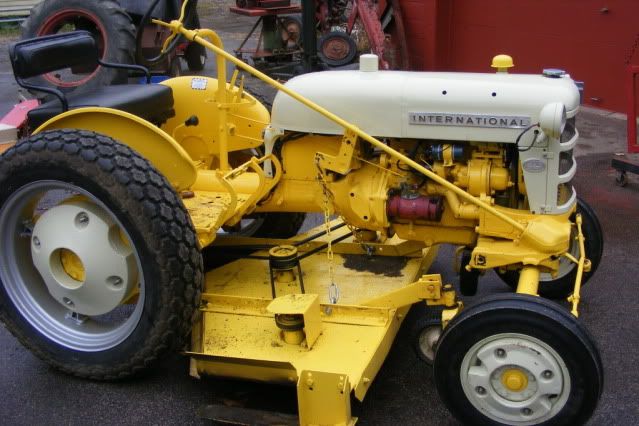 Tue Nov 09, 2010 7:14 pm
I bought this 1962 IH LOWBOY a couple of years a go. It's being fixed up at the local high school. It's been painted and shines like you wouldn't believe.
A little more work and it will be 1st prize winner at the Fair.
Tue Nov 09, 2010 8:30 pm
Yep Clark, the market is pretty tough now. I just shake my head when I hear people say 'too much money' for a correctly restored Cub. They just don't know. Certainly a paint job does not make it run better, but some folks are reeled in by paint job.

Long story why I have a Lo Boy (65), but I do and will keep it. Runs good!

I would post it on the for sale board for $4990 and see if anything happens. Patience is key, someone wants it.
Tue Nov 09, 2010 8:41 pm
In the first post it was mentioned that there is not a lot of interest in low boys...why? And I still cant figure out how this cub is different from the numbered lo boys. I like the looks of this cub and recently came across a 1960 all yellow. Again, money was the issue.

Todd