Thu Jan 26, 2012 5:55 pm
Ever wanted to know what 555 wren house kits look like?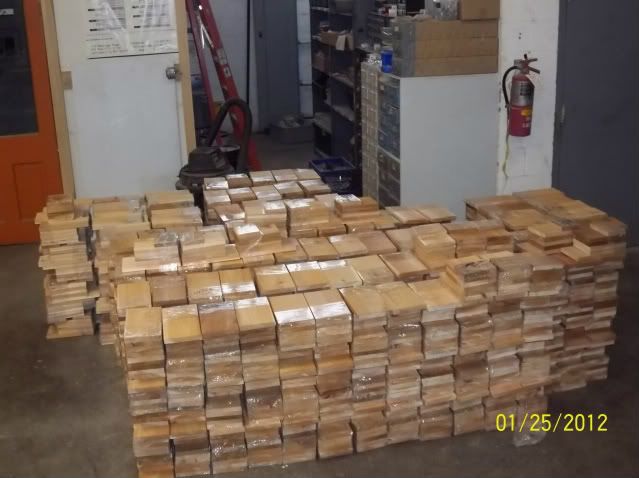 The last line of our job description says "Duties as described". It will only take 8,880 nails to put them together. It took a board 1"X6"X4' for each one. They will be put together by kids in 13 different state park and then taken to Joplin to put up where the tornado went last year.
Ron in Mid Missouri
Thu Jan 26, 2012 7:17 pm
Midmo, you better check again. I only see 553!
..... Great cause. Love the wrens in my yard. And I still remember building a birdbox years ago in Grade School.
Fri Jan 27, 2012 10:42 am
Ron, can you post the plans?
Fri Jan 27, 2012 10:52 am
Fri Jan 27, 2012 11:04 am
Have 3 wren houses in my yard--two usually get nested. One of the first sure signs that Spring is here is to hear the song of the wren. Love 'em!!
Thanks for doing "
duties as described
" to help restore the wren population in Joplin and make a
bunch
of kids feel useful.
For all interested, the Missouri Department of Conservation has many plans for wildlife. Check it out:
http://mdc.mo.gov/discover-nature/how/woodworking
Sun Jan 29, 2012 1:04 am
Brought back a memory from several years back. Wanting to get a little closer to my step son I prefit a few bird houses together drilling holes where each nail should go so things would work out well for small hands. Day comes to build and he and a friend join in saying they would help me build my houses but " It'll cost you $2.oo each"
Nice job, your also building many happy memories.
Sun Jan 29, 2012 10:11 am
Ron:
Now that is a real nice production run
And for a good cause as well.
Wed Feb 29, 2012 6:59 pm
Ron
that's a great project congrats
Sat Mar 03, 2012 8:29 am
GREAT job! Hat's off to you from a fellow son of Missouri!