Sun Jan 13, 2013 11:22 pm
Well here it is in a nut shell p.o. Replaced what I assume were rotten dog legs with flat steel which he welder to the inside of the hood, I am do my best to restore her toots former gleam .... But he welder over all the bolt hole and filled them with bondo!! Now. I do have a set of decent dog legs but without the location of the mounting hole and light mount holes too I m at my wits end .... Could someone that has their hood off make me a template and mail it to me or something !!! Frustrated by ppl who make bad choices I have to deal with
Thnx a lot fellas
Mon Jan 14, 2013 9:35 am
cc104:
I think it will be more cost effective to purchase a used set of dog legs either from our forum sponsors such as
JP Tractor Salvage
, one of our members - post an ad in the
Wanted Cub Items
forum. Another option is
where used ones are available usually on a regular basis anywhere from a $9.99 to $19.99 price range depending on seller and condition.
These ones are new reproductions:
For Farmall Cub Hood extensions, RH and LH new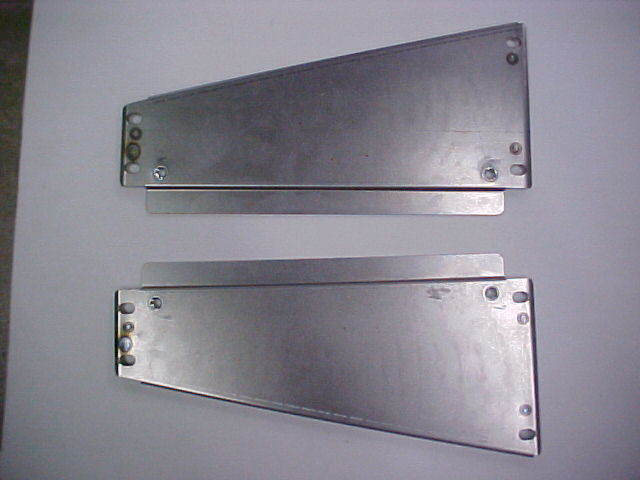 DE Farmall Cubs
is also another viable option.
Mon Jan 14, 2013 9:54 am
The Dog Legs for a Square nose hood are much higher than the round nose ones
Boss
Mon Jan 14, 2013 10:27 am
Is it the hole locations on the hood that you need, on the doglegs, or both?

Bob
Mon Jan 14, 2013 11:24 am
He's looking for the hole locations and sizes for the square nose hood.
Mon Jan 14, 2013 11:24 am
The square nose doglegs have a wide tab that fits up behind the hood, and has the holes in it for the light bar and the wiring pass-through.

If you have doglegs like are pictured above, you have the wrong doglegs.

The correct square nose doglegs can be used as a template for drilling all those holes the PO filled in. Just bolt them to the grill surround and bolt the grill surround to the hood.
Mon Jan 14, 2013 5:33 pm
Boss is right ---
For some reason I missed the '67 part
All the rest applies except you need the correct dog legs - IH Item # 38 - IH Part # 384 983 R11 RH w/nut and IH Item # 39 - IH Part # 384 982 R11 LH w/nut
Mon Jan 14, 2013 7:28 pm
Thnx a lot fellas I do indeed have a correct set of dog leg panel , and. If u could plz send the tracing of the bolt holes to me@ Greg Plaine
118 Milliner street
Strathroy,Ontario
N7G 2Z4
Canada
This old girl is going to look brand new with a new set of dog legs and a shiny new coat of paint!!
Mon Jan 14, 2013 7:41 pm
Greg, I'll get them in the mail in the next day or two.

Bob
Mon Jan 14, 2013 8:14 pm
New doglegs!! Wow, they are tough to find for a square nose.
I have 2 hoods that can be used for making a template, but I never was good at art. I will try to remember my crayons, and will get it done in the next couple of days. In the meantime the below picture may help.... Also, the stickers are available from a dealer or TM. There are some ugly aftermarket ones around, so be careful. Also he has nice fasteners for the hood if you are going to order from them.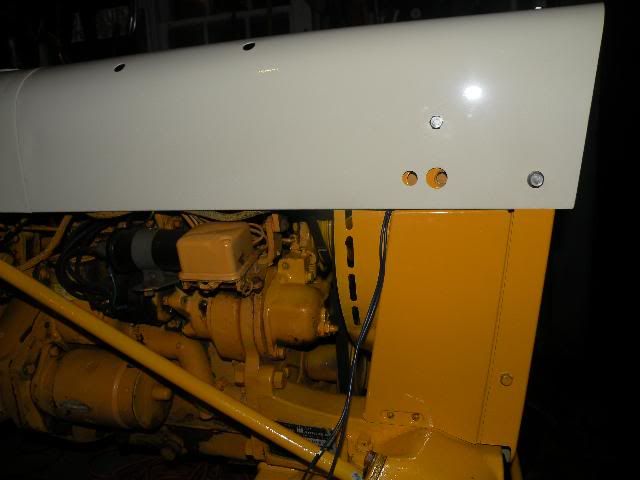 BTW, one hole is only for the headlight wires, so not as critical. There should be a nut welded to the dog leg for the headlight bracket (5/8 NC??). And the there are 1" standoffs on the radiator sides (those actually support the hood). The doglegs really don't add structural strength to the whole thing. Three pieces of sheet metal attach to the front of the hood, dogleg (light stud), radiator standoff and grille frame (also a weldnut). So it could be worthwhile to put it all in place BEFORE you do any drilling to double check the fit and alignment. There are also two holes on top of the hood....also for the grille frame. Oh, and two little holes for the hood ornament too.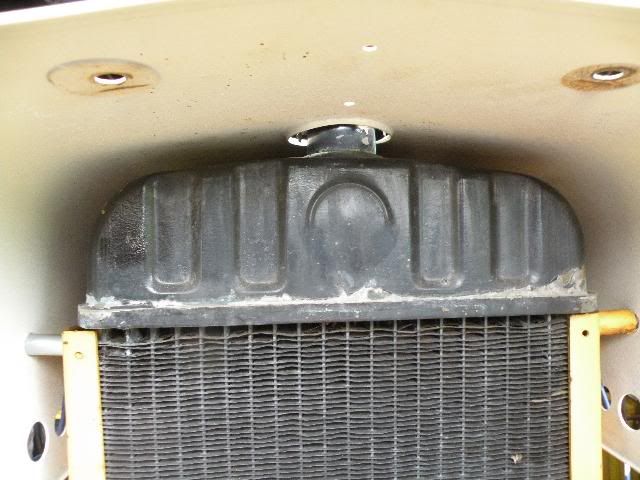 Mon Jan 14, 2013 8:22 pm
I missed Bob's offer for the tracings..... guess I can skip amateur drawing and get the Cub back on all 4.
Tue Jan 22, 2013 10:27 pm
In the mail tomorrow....
Fri Jan 25, 2013 9:16 am
Uh oh...standoffs. I guess you learn something new every day. Mine doesn't have them, and never knew it was supposed to have.. (hood was off when I got it)
Thanks for the photo...
Regards,
Stan
Fri Jan 25, 2013 9:20 am
sdurnal wrote:Uh oh...standoffs. I guess you learn something new every day. Mine doesn't have them, and never knew it was supposed to have.. (hood was of when I got it)
Thanks for the photo...
Regards,
Stan
I bet your hood has that T P effect
They are EZ to make I posted some pics some time ago about them, I believe they are 1 in long not counting the threads
Boss
Fri Jan 25, 2013 9:28 am
I remember something seeming not quite correct, and a little squirrely with the headlights as well. I probably won't bother until I have to take the hood off again. (and look in the tray of extra hardware that came with her) I will have a look-see, for your post, Boss! Thanks,