Fri Feb 15, 2013 2:48 pm
My friend has this Cub Cadet 104 that he purchased new in 1969 that he wants to sell. I am considering purchasing it. Included is the mower deck (in good condition), pull behind disc and a nice IH Cadet trailer, I think it is a # 2. It has always been garaged runs very good and transmission (3spd manual) is every good, tires good.
I am not famaliar with pricing on these units. It has always been serviced properly. Can you please give me a ball park range of pricing. I consider it to be as nice as any Cadet tractor that I have seen.
Thanks, Berlin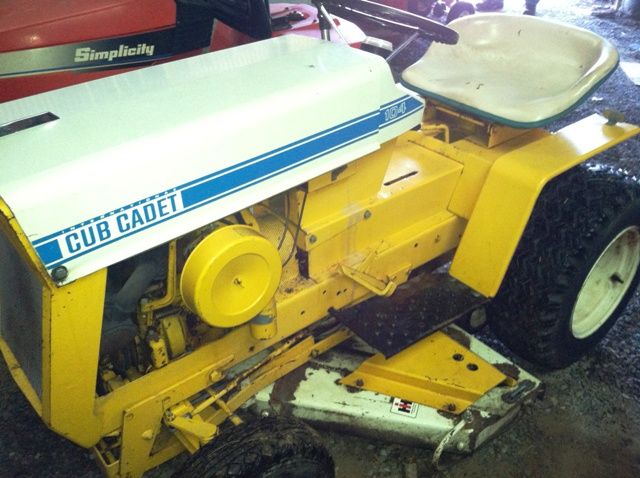 Fri Feb 15, 2013 9:50 pm
Price depends on if you want to keep it for yourself or re-sell it. If it's to keep and use,you can pay more.Looks like it's in nice shape with original paint and original type tires,but has no creeper gear,which is fine until you get a rototiller or snowthrower for it.How loose is the steering? Does it run good,does it charge? In this area that tractor and extras might bring $500-800 in good working condition.How much would you pay at Sears for a new machine comparably equipped that will be junk in 5 years or less?
Hope this helps a bit.
Mike
Sat Feb 16, 2013 9:26 am
If you can get it around $500 with the cart it's a great deal. The seat looks excellent from that pic, most of those old seats of that style are beyond worn out. Plus if you're getting it from the original owner that would be a big plus in my book. Does he happen to have the bill of sale or anything still yet? Also, does it have a rear 3pt lift or PTO?
Sat Feb 16, 2013 10:18 am
The tractor with mower deck would normally sell at auction in this area for between $400- and $500-. Trailer, perhaps a bit more.

Depending on make and condition, the disk may be of little value. I have a couple of pull behind disks originally sold with 2 wheeled garden tractors. These disks work well behind a Cub Cadet. Neighbor picks up scrap metal. Not uncommon to find 2 wheeled garden tractors and implements being scrapped.

Mower deck repairs have been my largest single expense. Mower decks wear out long before the tractor.
Sat Feb 16, 2013 2:34 pm
I would be buying it as a collection piece, and also will use it ( don't need it for mowing) it does not have a lift or pto, I have a creeper gear that I can put in it.
Thanks for the responses.
Berlin
Sun Mar 03, 2013 4:27 pm
Id be a buyer at 350 on it. the trailer is around 250 to 350
Sun Mar 17, 2013 12:15 am
Hope you were able to land a deal with the owner! Sounds like the owner wants to sell the 104, a disk harrow, and a #2 IH cart in a lot. If the k241 is not smoking too badly, I'd expect to pay around 550.00 for everything, +/- $ 50.00 . This 104 looks as good as you have described, and you had better believe these IH Cub Cadets are 100 times better than what you can buy from JD or Sears today.

I have news for you, every part of the mower deck can be repaired or replaced! That deck has 3 grease fittings on it! The tractors are just a serviceable, and parts for both can still be found at many places! Today's box store junk don't even have any grease fittings to speak of, and there is a BIG reason for that! They want you to keep spending money on the cheep junk that they keep forcing down our throats. Guess that's the way it is,....for those who don't know. IH Cub Cadets Are For Keeps!
Sun Mar 17, 2013 6:54 am
I did purchase the tractor trailer and disc, will post pics later. I cleaned the carb and some other minor repairs, it is running well.
Thanks for your comments . In this area Cadets bring a higher price than any of you suggested, I know prices are different in different regions.
Berlin
Sun Mar 17, 2013 7:10 am
I'm sure you got a nice machine. There are few around that were taken care of like that one appears to have been. Just the fact that it still has the original seat, decals, and paint, shows either very little use, or someone that took really good care of it. Regardless, it looks like a good one. For some reason those blue-stripe Cadets are really my favorite. I've had three 124s, a 125, and a 104. All were excellent machines and in my opinioin, way under rated compared to what they will really do.

I think I'd run a couple of treatments of Sea Foam through that one, clean and polish her up, and basically leave her as she is.
Sun Mar 17, 2013 7:00 pm
Here is a pic of the 104 on my trailer when I brought it home Thursday. The disc is a David Bradley.
Berlin
Sun Mar 17, 2013 7:22 pm
Congratulations!!
Great looking rig there!
Love those narrow frames!
Sun Mar 17, 2013 8:23 pm
Way to go! Glad to see you reeled this one in! Sure is a nice 104, and the #2 cart looks pretty good too! Beautiful day by you last Thursday. I see your tractor has the Firestone 8.5" gum dipped rear tires to boot! Looking good, cant wait for any updates that might happen along!

Cheers!
Sun Mar 17, 2013 11:13 pm
Berlin:
Nice addition to the herd
And toys with it to boot
Mon Mar 18, 2013 8:39 am
This is my first Cadet, except for a few junkers that I sold. It obviously is a very well made machine and I hope to pick up some attachments along the way.
Berlin
Mon Mar 18, 2013 9:25 am
Nice find i like my cc104.

I found a 104 that was stored after a few years from bad gas. After removing the head to fix a stuck valve the engine inside appeared to be brand new or very little use. After a quick replacement of the gummed up carb and gas tank i found out i have a cloe to brand new running 104. The 38" deack mows the lawn excellent too. Orginally i went looking for a snowplow but i ended up with this non running 104 with a odd ball 54" snowplow and the 38" mower deck from the orginal owners family for $150.

I have noticed a Cub Cadet running with one or two attachments will go between $750 to $1,000 for a gas up, check the oil, turn key running tractor. After all there better than the new stuff there selling today.