Thu Mar 07, 2013 11:43 pm
is the turnbuckle clutch adjustment on the early cubs. I had to replace the throwout bearing on this, plus the hanger bracket was assembled backward, so it completely blocked the grease fitting. To adjust the turnbuckle requires removing the bolt plus the pin, then pushing the bracket to the rear so it and the turnbuckle can be moved apart, the adjustment made, then it all reassembled.
Making this adjustment after both of these problems required several tries, and getting up from under to check the pedal play which is a pain (literally) for my back. The pedal spring was bad, so I had removed it, and finally got smart enough to set this up.
Sorry about all the junk laying there, but this thing has been setting there accumulating stuff for 3 or 4 months. With the string and pulley I could stay under the cub, and pull the string to raise the pedal, and by checking how much the string moved I knew what the travel was.
The only way I see to grease that is with one of the close quarters grease gun adapters, or else take the bolt and clevis loose. I used to have one for the U joints on my old Bronco, but have not seen it in years. A second option is one of these needle point adapters. It is made to stick the end into the fitting pushing the ball back and then squirt grease in.
Fri Mar 08, 2013 11:38 am
I agree with you, John. I have an early Cub that needs a clutch adjustment and has that same D*** turnbuckle set-up. I am intimidated by the thought of trying to get my hand and a tool (let alone two hands and a tool) up through that tiny opening. While I am up in there, I probably should adjust the TO clearance, too. I'm wondering if it would just be easier to split the tractor?? How big is your hand?? What is the level of your patience?? Did the turnbuckle turn easily or was it rusted stuck?? This will be my project as soon as the snow melts - which will be a while since there is over 12" of new snow on the ground now and still coming down hard. This gives me lot's of time to worry about the whole idea! Al D
Fri Mar 08, 2013 2:09 pm
My hands are a little larger than average, and a lot of the work must be done one handed, so it does require patience and dexterity. Normally there is enough oil and grease in there that rust id not a concern, though dirt and crud may add to it a little. Adjusting the TO travel must be done with it assembled anyway.
Fri Mar 08, 2013 7:10 pm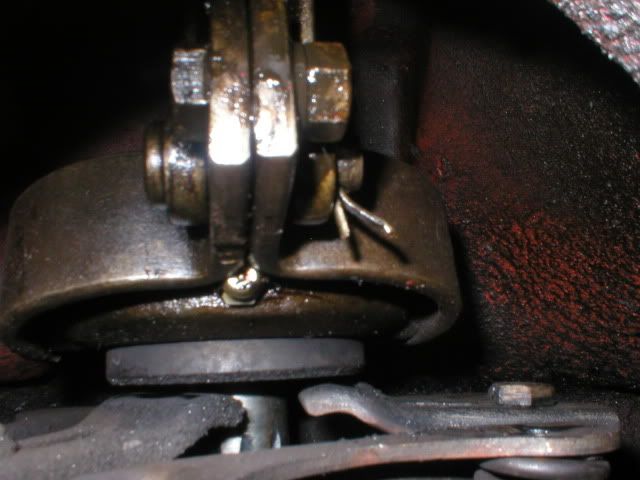 John this is my 47. How can you tell the hanger bracket is on backwards? Is it just because you can't get to the fitting?
Fri Mar 08, 2013 8:36 pm
the way I decided this one was in backwards was looking at a service manual. It is a little hard to see in the manual but there is a slight curve in the hanger arms, and in the service manual it looked as if they were turned in the way that put the bearing furthest forward. When I got it in and adjusted I realized that putting it that way gave better access to the fitting than the way it was installed originally.
Sat Mar 09, 2013 12:00 am
Wow I'm glad you're doing that and not me
Oh wait, that was supposed to be me doing that.
Well I guess that answers.....
goldencub wrote:.......... What is the level of your patience?? ...................
As a separate but related topic, I found it much easier to reach and adjust the clutch fingers on the loboy than reaching the clutch fingers on a regular cub. The next time I'm adjusting a regular cub I'm planning on "raising the ground" about 8-10". Something like a stack of 2x12's or a twin size mattress
might as well be comfortable while I'm under there, it could take a while.
Sat Mar 09, 2013 5:59 pm
47 to mid 48 had that type of bearing yoke. It doesnt appear to me that the one in the picture is backwords. Looks a little bent to me. In Late 48 IH changed the adjustment to the peddle. When I incounter one of these I convert it to the peddle adjustment. Makes life much better.
Sat Mar 09, 2013 9:05 pm
If this is the worst idea you have ever seen, evidently you missed the video of the guy taking the concrete silo down.
Sat Mar 09, 2013 9:53 pm
Jim, I talked with a friend of mine originally from Iowa. He said that's the way it's done there. But not exactly. First the camera guy was too close. When they get close, they use a shotgun with slugs from a safe distance.
Sat Mar 09, 2013 9:59 pm
Took down a silo way back when. Climbed to top and hooked couple hundred feet of log chain to top silage opening and bar. Loosened the bottom 3 or 4 rows of bars. Really big tractor and pulled silo over.

Course the design engineers planned well with a Pontiac station wagon I owned back in the 1970's. Had to remove the grill to replace the head lights.
Sun Mar 10, 2013 12:31 am
Jim Becker wrote:If this is the worst idea you have ever seen, evidently you missed the video of the guy taking the concrete silo down.
Please do share...
Sun Mar 10, 2013 12:48 am
AL Farmall Boy wrote:

Jim Becker wrote:If this is the worst idea you have ever seen, evidently you missed the video of the guy taking the concrete silo down.

Please do share...
It was posted a week ago. If I was going to take one down, I beleive I'd knock a hole a couple staves wide in each side, directly opposite each other. Then loop a heavy cable or chain through the two holes, have enough length to get out of range of the silo and pull with a large tractor. Once the cable has pulled through one side of the silo, it should go over.
http://www.farmallcub.com/phpBB2/viewtopic.php?f=33&t=76879
Sun Mar 10, 2013 8:21 am
To take one of those silos down, invite 2 or 3 friends over, get a couple cases of bear, and when you hear the words, "Hey, you all watch thish!", you run.
Sun Mar 10, 2013 8:48 am
there you go john, making fun of us rednecks
.
Sun Mar 10, 2013 12:43 pm
Better have good insurance John if you use that method, lOL!