Forum rules
All photos must be your personal photos (no copyrighted material).

FarmallCub.Com forum upload attachment requirements:
Maximum attached file size: 512kb
Maximum dimension: Unlimited (as long as the file is less than 512kb)

Preferred photo attachments are via direct upload in post, and/or the CubFest Photo Server.

Commercial Photo hosting services will work, however, if the image links become broken due to discontinued service or deletion of the images, the posting will be marked for removal.
Merk

10+ Years

Posts: 248
Joined: Wed Sep 29, 2004 5:20 pm
This IH Cub Cadet 70 has been in my Wife's family since it was new in 1965.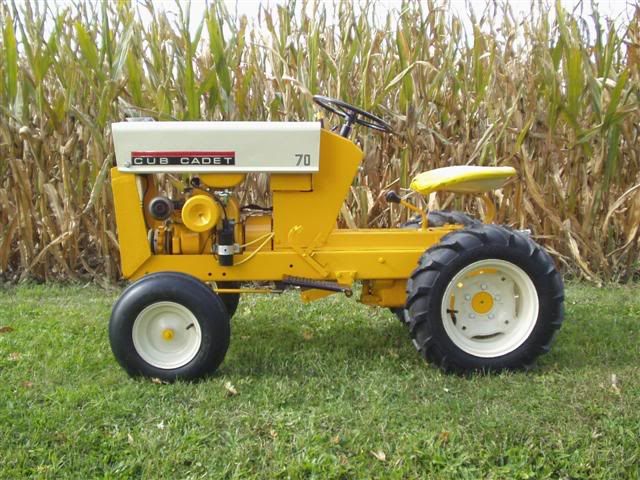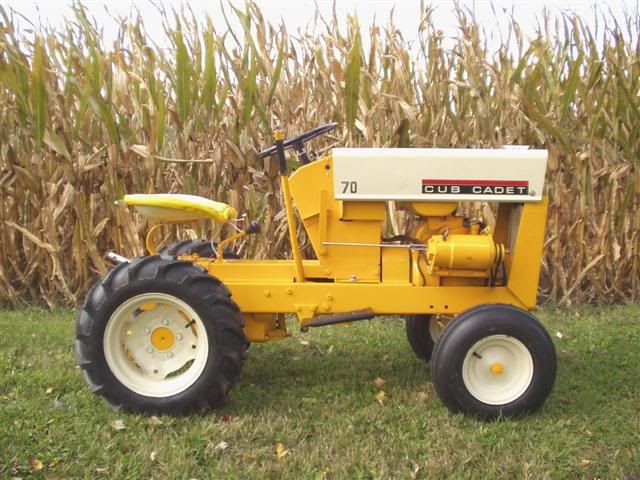 ---
Brendan In NC

10+ Years

Posts: 440
Joined: Fri Jul 29, 2011 6:54 pm
Zip Code: 27858
Tractors Owned: 1964 Farmall Cub Red Square Nose # 223883 one of 2300 built before they switch to Yellow and White.

1964 Farmall 140 #27512
Just a Clean Strong run of the mill Farmall 140 with very little Wear.

Also have a bit of equipment
Woods C-42 Belly mower, 1963 IH McCormick #215 Plow, IH #144 Cultivators, IH Side Dresser (in need of some work non working at the moment)
Location: Greenville N.C
very nice cadet iv always wonted a model 100 to haul in the back of my 66 ford f-100 to the shows.
very nice mower like the AG tires on it
Tractors are like watermelons..Eat the
red
and throw away the
green
!!
Brendan Dixon Greenville NC
1964 Farmall Cub #223883
1964 Farmall 140 #27512
Tractorguy140, YouTube
---
twotone

10+ Years

Posts: 1189
Joined: Sat May 14, 2011 6:09 pm
Zip Code: 15132
Tractors Owned: 53 F Cub
73 F Cub
53 Super A With Snow/Grader Blade
193 Plow With Colter And Jointer
144 Cultivators
22 Mower
Circle of Safety: Y
Location: Versailles,Pa.
Beautiful Cadet.


Tom
Know Your Cub, And Your Cub Will Know You.

Tom
---
---
Who is online
Users browsing this forum: No registered users and 0 guests