klyant

10+ Years

Posts: 74
Joined: Sun Dec 30, 2007 7:55 pm
Location: nebraska
I made this toy twin Cub from a Pair of Ertl cubs.
I thought it was cute!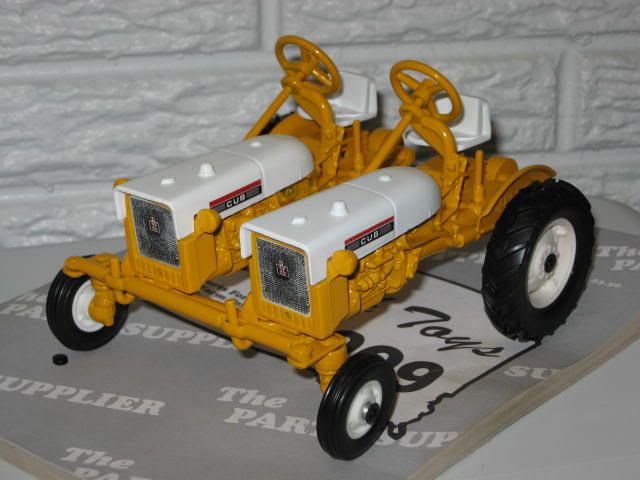 ---
Bob McCarty

Team Cub

Posts: 10959
Joined: Tue May 25, 2004 8:02 pm
Zip Code: 80501
Tractors Owned: Cubs, MH Pony, Shaw, Allis G, 1934 Silver King, JD LA and LI, Gibson D, David Bradley Tri-Trac
Circle of Safety: Y
Location: CO, Longmont
A tractor for a student driver! Nice job, as with all the stuff you make.

Bob
"We don't need to think more,
we need to think differently."
-Albert Einstein
---
Rudi

Cub Pro

Posts: 28706
Joined: Sun Feb 02, 2003 8:37 pm
Zip Code: E1A7J3
Skype Name: R.H. "Rudi" Saueracker, SSM
Tractors Owned: 1947 Cub "Granny"
1948 Cub "Ellie-Mae"
1968 Cub Lo-Boy
Dad's Putt-Putt
IH 129 CC
McCormick 100 Manure Spreader
McCormick 100-H Manure Spreader
Post Hole Digger
M-H #1 Potato Digger
Circle of Safety: Y
Twitter ID: Rudi Saueracker, SSM
Location: NB Dieppe, Canada
Ken:
As usual.. excellent. I like em a lot. Very nicely done
Confusion breeds Discussion which breeds Knowledge which breeds Confidence which breeds Friendship


---
David C

10+ Years

Posts: 606
Joined: Tue Dec 02, 2003 9:17 pm
Zip Code: 47141
Tractors Owned: 1949 Farmall Cub, 1970 135 Massey Ferguson, 1970 175 Massey Ferguson, 1964 Cub Cadet Model 70. 1977 Farmall 140 (Granpa's)
Location: Marysville, Indiana
Very nice, i wish i had that much talent
I may be old but I got to see all the cool bands
---
scotlem

10+ Years

Posts: 845
Joined: Thu Oct 12, 2006 8:52 pm
Zip Code: 02852
Location: RI, North Kingstown
Now thats an Idea to go full scale
---
VinceD

10+ Years

Posts: 4587
Joined: Mon Apr 17, 2006 9:17 pm
Zip Code: 65626
Tractors Owned: 1949 Cub "Frodo"
1949 Cub "Sam" (future Project)
1965 Lo-Boy "Pippin"
1940 H "Walter"
1953 SC "Gimli"
Cub Cadet HDS 2155
Circle of Safety: Y
Location: MO, Bakersfield, (South - Central)
Very nice indeed.
Wish I had that level of talent.
Vince
High atop Hummingbird Hill
In the Missouri Ozarks
---
Brent

10+ Years

Posts: 1055
Joined: Thu Feb 06, 2003 9:21 am
Zip Code: 93510
Location: Acton Ca.
There is a guy out here in So. Ca. that hooked three A's together just for the fun of it. Useless as a working tractor because it takes a freeway to get it turned around. If he's at our big show in April I'll take some pictures and post them.
Last edited by
Brent
on Mon Jan 04, 2010 10:47 am, edited 3 times in total.
Always try the easiest thing first.
---
grumpy

Cub Pro

Posts: 2780
Joined: Tue Jan 10, 2006 12:03 am
Zip Code: 15522
Circle of Safety: Y
Location: PA. Bedford (Centerville)
Good job. I just wish I had the patience to be able to work on small things.
David Dee Mock-Leonard

Nothing is foolproof to a sufficiently talented fool.

Some days it's not worth chewing through the restraints
---
---
Return to "Collector's Show & Tell"
Who is online
Users browsing this forum: No registered users and 1 guest