Forum rules
Notice: For sale and wanted posts are not allowed in this forum. Please use our free
classifieds
or one of our site sponsors for your tractor and parts needs.
Sun Dec 30, 2012 12:48 pm
I'll try to come back later on and add some comments on parts changes/paint/holes. But I wanted to throw in a few quick comments on CharlieB's brochure.

First off, thanks for posting the images. I have not seen most of those pictures before. The code "AD-31469-C" identifies the publication. The letter C is a year code, in this case 1974. I don't know the meaning of the second date, "1/74". I've seen it on some publications and not on others. If there is any difference between the 2 dates, the second one is always earlier than the first year code. I suspect the second date may be the date of some approval and the one coded in the publication ID is determined by the (planned?) release date. Sometimes the second date is an open date like this one, others have the year coded. I have seen some with month-year, others as month-day-year, and even some month-day.

Are the pages with the 2 codes stapled together or is one just inserted inside the other? It isn't unusual to find to find one inserted inside another. I have a 154 brochure with 2 different mower brochures stuck inside it. I suspect they have been together since they left a dealer's brochure rack. The code "AD-1335-Y5" is 1970. The final "5" indicates 5 revisions. The secondary date "10-31-W" is 1969. By the way, did you miss a digit in this code? 31335 seems more likely than 1335 as it would be in sequence.
Sun Dec 30, 2012 1:10 pm
RUSSALL wrote:Here is my '79 . It has original paint.

Russ
That one's our cub Russell....
Sun Dec 30, 2012 2:32 pm
Russ[/quote]
That one's our cub Russell....
[/quote]
I know. I know
Sun Dec 30, 2012 3:39 pm
My 76 long stripe has generator holes, no emblem holes
Tim
Sun Dec 30, 2012 6:19 pm
tst wrote:My 76 long stripe has generator holes, no emblem holes
Tim
Tim,
do you know the month in 76 was your cub built?
Paul
Sun Dec 30, 2012 7:06 pm
Jim Becker,
I re-checked and the last number I posted doesn't have the other '3' in it. It is '1335'. And you're
right about it being a page placed inside the brochure. A single page and it is an ad for the C-3 and C-4
Rotary Mowers for the International 140 tractor. These middle pages are somewhat stuck together from
dampness. Got them opened enough to check. The Cub brochure is 4 pages that were stapled together.
I assumed that the '1/74' was for the year model being advertised
I remember that I was looking into possibly buying a new one about that time but cost a little more than I could
afford on a paperhanger's salary.
Back in the 50's I lived about a half mile from the old International Plant in Louisville and drove by every day
and would see their lot with hundreds of Cubs lined up in it. some days were F-cubs, some days were Low-boys.
Remember seeing them go from red to yellow & white, but don't remember seeing them go back to red or red
with white hoods. We moved to another part of town and then later to Elizabethtown.

__________________________
Charles
Sun Dec 30, 2012 7:42 pm
serial # 249471
Sun Dec 30, 2012 8:03 pm
DarinO wrote:My 77 is very near the middle of the year of production with s/n 251043. It has no oil holes in the hood, original alternator, choke cable, key start, and rubber intake tube. I think the grill is black, but it's hiding behind a wire screen that caught grass from its mowing days. Some of these differences are shown in the owners manual that was shipped to the dealership that sold the tractor new. It was post marked Dec, 13 1977.
What color is your tractor? And does it have a hood ornament?
Sun Dec 30, 2012 8:27 pm
bob in CT wrote:

Cubfriend wrote:I think the "holes" may be in reference to the hood ornament holes. Please correct me if I'm wrong. Maybe this will clear up some confusion. ...Frank

The reference is to holes in the hood to oil the generator bearing cups. No need for that with an alternator.
Bob, Thanks for setting me straight on the oil holes. It just makes sense that the alternator would not need oil holes when I think about it. Thanks again ...Frank
Sun Dec 30, 2012 8:55 pm
tst wrote:serial # 249471
That would be june 76. Hood ornaments gone by then.
Sun Dec 30, 2012 9:04 pm
CharlieB wrote:I re-checked and the last number I posted doesn't have the other '3' in it. It is '1335'.
OK, it was a hunch. If it had been 31335 it would have fit more neatly in sequence for 1970. I don't know on a C-4, but a C-3 was made from 1960 to 1980. The version you have could be an update of a brochure from any time back to 1960. The number 1335 is probably in sequence from the time of the first version.
Some of us get deep into this sort of thing. Others couldn't care less. It does sometimes help when sorting out questions like are being discussed in this thread. Other times, some of the pictures are so much older than the brochures that they may not tell anything.
Here is a picture you may relate to. Nobody has posted it lately. It is from the Wisconsin Historical Society McCormick Collection, taken in 1948.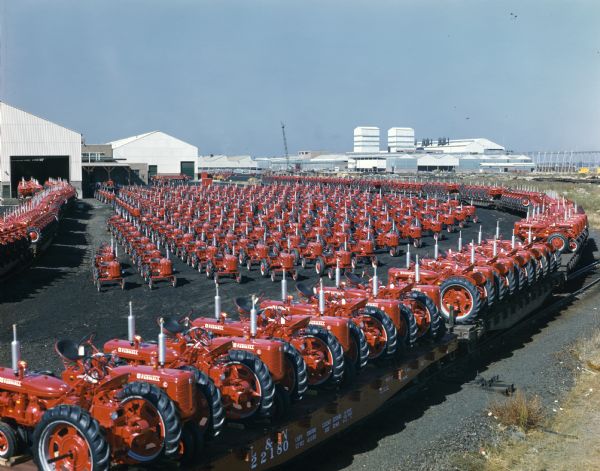 Sun Dec 30, 2012 9:29 pm
Boss Hog wrote:I think maybe some hoods may have been in a corner and used after they were using the no holes hoods but that is only speculation on my part. I have 5 longstripes all have holes in the hood the newest one is a late 78, I think most no hole hoods were 79 and late late 78s
Went outside and looked around today. Here is what I found....
The '78 Cub (S/N 252,896) I've got is all original (hood doesn't look to have ever been removed), and it DOES NOT have holes in the hood. The 1976 (S/N 250,050) and 1977 (S/N 250,230) does have holes. None have the hood ornament and all have the choke cable. All also have black grilles.
Mon Dec 31, 2012 12:13 am
CharlieB wrote:Rudi;

The numbers I see are.....AD-31469-C...... 1/74

on another page, lower corner; AD-1335-Y5..... 10-31-W



____________________
Charles
Charles:
Like Jim, I have never seen this particular brochure before or some of the pics. Is there a chance that this brochure could be safely scanned into jpeg's
Mon Dec 31, 2012 1:27 am
Rudi wrote:Is there a chance that this brochure could be safely scanned into jpeg's
I hope so. Unfortunately, if pages are stuck because of the water damage, it may not be possible. Even scans of the outside pages would be of interest.
Mon Dec 31, 2012 7:48 am
Raymond, it is original yellow(all but the steering casting) and no hood ornament.