Tue Jun 25, 2013 8:13 am
Generally, coils are 6V unless they have a ballast resistor built in. So the 'Mopar' resistor should be installed. I have run a 12v Cub without a resistor and it will just quit when it's too hot. After it cools, it would work again. I ended up replacing the coil with a pricey 'Pertroincs' (the electronic ignition folks) with a resistor.

The manuals are silent about the resistor for some reason.
Tue Jun 25, 2013 3:40 pm
the magneto has an external coil on it. the battery is dead i do not believe any charging will fix it. i hooked up a spark tester and turned the engine over repeatedly as quickly as i could and the tester didnt spark. that is after i replaced the ignition wires condenser, points and cap. then i took off the coil and it was very corroded on the inside i haven't checked for spark again. it seems like if the part or resister in question is not one it wont burn up the coil or atleast not too quickly. the possible resister one end is connected to the positive side of the coil. the other end of the resister which says "bat"is connected to the ignition switch and to the plug which goes into the alternator. i do have a multimeter. the possible resister doesnt have an adjusting slot on the bolt. thanks for the help and sorry for the confusion
Tue Jun 25, 2013 3:48 pm
i believe it might be a variable resister. i didnt see an adjustable notch but it certainly looks like one
Tue Jun 25, 2013 4:00 pm
First thing, next thing, only thing, Fix the battery problem. The ignition system, distributor or magneto with external coil, will not work without a good battery. It's like a car, dead battery and the car won't start or run.
Tue Jun 25, 2013 5:22 pm
I'm not familiar with an external coil on a Mag, but if it's a Mag, it shouldn't be hooked to the battery in any shape or form should it?
Tue Jun 25, 2013 5:54 pm
birddog wrote:I'm not familiar with an external coil on a Mag, but if it's a Mag, it shouldn't be hooked to the battery in any shape or form should it?
The external coil in an inexpensive fix when the magneto coil ceases to function. The magneto internal coil is either removed or disconnected. The magneto's remaining points, condenser and impulse coupling are utilized.
The external coil is connected to a standard on/off ignition switch and the battery.
Tue Jun 25, 2013 6:36 pm
This is David's ballast resistor:
doesn't look adjustable to me. Different.
Wed Jun 26, 2013 9:27 am
Photos in previous post. Probably a ballast resistor. But where do the connecting wires go? Usually a ballast resistor is wired in series with the coil. See wiring diagram in following link for typical 12 volt alternator conversion.
http://s101.photobucket.com/user/farmal ... sort=4&o=3
Wed Jun 26, 2013 11:10 am
David:
Ok, I am going to make a suggestion that should eliminate all the extraneous junk on your Cub and simplify it. Suggest that you invest in a new
IH Farmall Cub Tractor Magneto Coil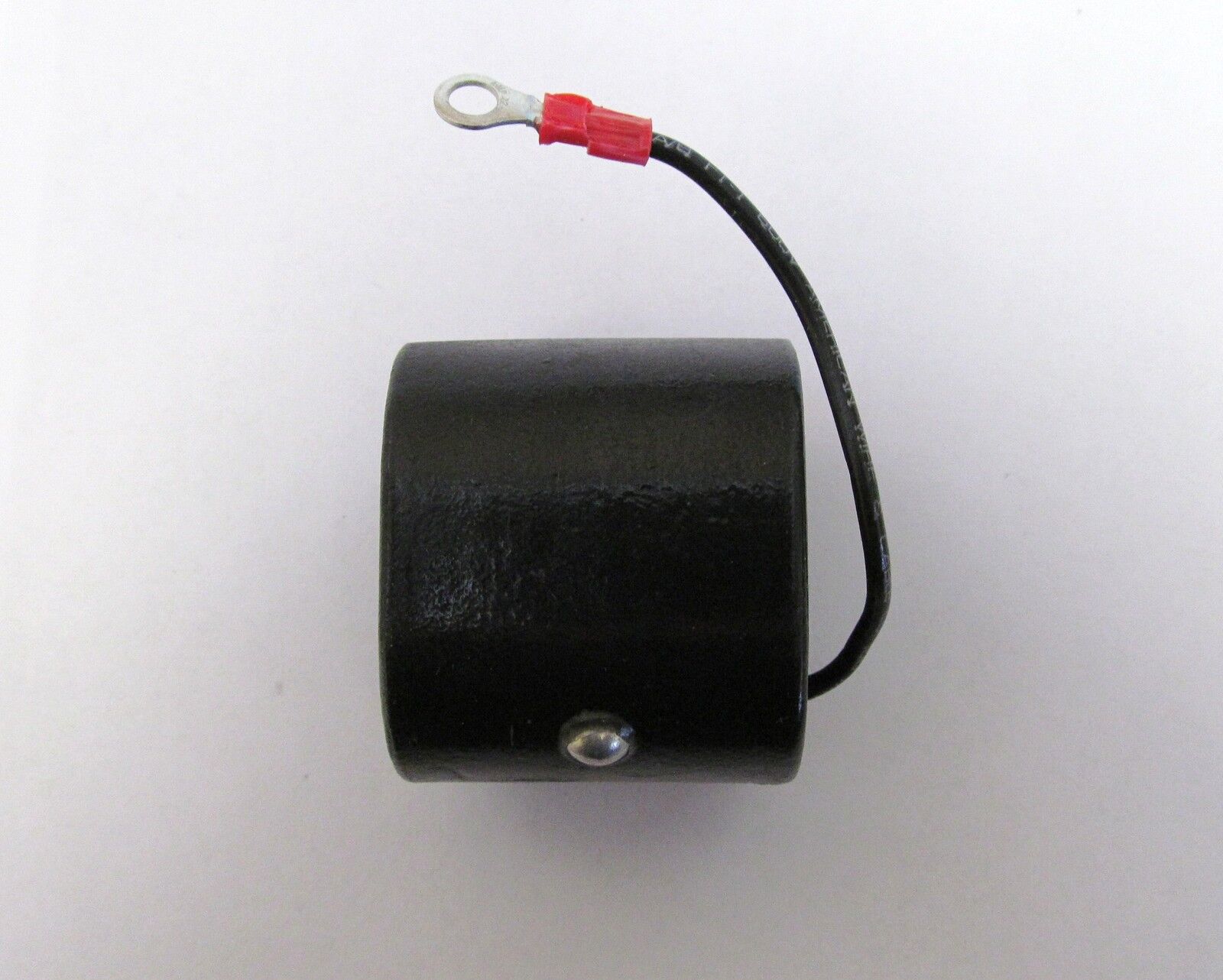 I would hope that the old coil is still in the magneto. If so, then save the core as they are NLA. Then buy yourself a new 6 volt battery. A Group 1 or a 19L will fit nicely into the battery box. Rewire according to the schematic:
This will return your Cub to it's original configuration.
Wed Jun 26, 2013 11:31 am
1990caprice wrote:it has a delco alternator installed
It's going to be terribly expensive going back to a 6 volt electrical system and then buying a coil for the magneto.
Zip code says Lexington, KY. Suggest planning on, attending a near by Cubfest. Trailer the tractor. There will be experienced Cub folks there who can figure out your wiring, diagnose problems, provide excellent instruction.
With out a hands on visual inspection and some test equipment, it is impossible to tell how the tractor is wired and what is going on.
Battery problem solved yet?
Wed Jun 26, 2013 12:10 pm
Darn, I forgot that. David -- forget my last.
The above schematic shows how your Cub should be wired with an alternator. Suggest you rewire as shown. See if that improves the situation. If not, then change out the resistor to say the Mopar or it's equivalent from Chevy, Ford, Stud etc... whatever your preference.
Eugene's suggestion to attend a CubFest is a good one ..
CubFests and Gatherings Calendar 2013
. It appears the
Buckeye CubTug & Ohio CubFest Reunion
might be the closest one August 9th and 10th.
Wed Jun 26, 2013 5:33 pm
Thanks Eugene;
Wed Jun 26, 2013 9:49 pm
In the mean time if the cub was working the way its wired now, for years. Then it wouldn't hurt to find out if it will continue to work with a new battery. You have to have the battery to generate a spark if its no longer the mag generating it. If I'm following this right
Thu Jun 27, 2013 5:04 pm
i am getting a new battery. i will also go through those schematics. thanks for ya'lls patience and help
Thu Jun 27, 2013 6:43 pm
We love to help. Nothing better than reading a post about a problem solved!