Wed May 28, 2014 2:24 pm
Just a quick hello as I get back into the swing of things after this last bitter winter.
I am hoping to get to spend some time this weekend working on my dad's Lo Boy highway mower. I would like to at least get it started so that it can pull itself onto the trailer by it's own power when we load it up to move it from dad's to my place. My neighbor has volunteered the use of his flatbed to haul it home for me. He does have a winch we could use, but it would be much nicer to drive the old gal onto the flatbed under her own power. Over the winter I have gone through the carburetor numerous times, checking jets and whatnot. I am reasonably comfortable that the carb is ok.
We'll see.
Wed May 28, 2014 4:55 pm
Welcome back! Wish you luck in getting her started. Just make sure the oil pump is primed before you try.

And DON'T PANIC!
Fri May 30, 2014 3:06 pm
Oil pump prime was still good last fall, but I will check before I start work, thanks for the reminder.
Sun Jun 01, 2014 4:27 pm
Success! I bolted the carburetor back on and hooked up the battery, turned on the gas and hit the starter... after just a little cranking it coughed a few times then started right up. Yay!
Oil pressure came up to about 30 or so, and she ran like a sewing machine.
Now if I can catch my neighbor to haul it home for me I'll get her cleaned up then I'll post some more photos. This is my dad's Lo Boy mower I posted about last summer, I think it was.
Mon Jun 02, 2014 8:17 am
I had been considering doing the 12v conversion on this tractor, but geez, it starts so easily I'm re-thinking that.
My dad says that the guy he bought it from said that he was sick of replacing batteries, so I assume that there is something not right with the charging system. That's what had me interested in doing the conversion.
But now I am thinking that maybe it would be more fun to keep her stock, or at least as stock as she currently is. I have found lots of great troubleshooting info on here for the charging system, surely I can work my way through that.
I probably won't get to bring her home until late June or early July, so I have some time to look at batteries. My brother suggested an 8v battery, but I know that's not going to fit in the battery box. As it stands, I'm thinking of putting in a 6v battery that will fit in the battery box so it will button up properly and look right, and see what I can do as far as getting the charging system back into working order to keep the 6v battery alive. I think, as others have stated elsewhere, that a battery maintainer is a great idea, will be looking at those as well. Then, if I have unsolvable or prohibitively expensive trouble with the 6v system then I might revisit the conversion idea.
So I guess I'm not really asking any questions here, just sort of thinking out loud. And inviting comments, of course.
Mon Jun 02, 2014 9:12 am
Welcome back Arthur, glad you go it going. How often was your dad having to replace batteries? 3 to 5 years is the normal life of one from what I have seen. I have found one of these to be very useful. The scale is marked for 6 volt and 12 volt, with green areas showing the acceptable voltage ranges for stopped and charging, plus they will load test a battery to show if it is still capable of starting an engine satisfactorily. Not only does it test the battery, but lets you see if the generator and regulator are charging the battery at the proper voltage. a bad regulator will overcharge a battery and shorten the battery life.
This picture is from NAPA, but these can be purchased from $20 to $40 from most auto parts stores.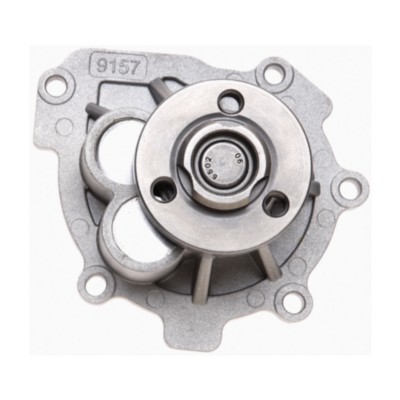 Forgot to mention, an 8 volt battery will not make much difference in starting unless the regulator is adjusted to match it. On the older charging systems with a cut out rather than a regulator it would help some on cranking speed. the reason for that is a regulator operates on the voltage, but the cutout system charging was controlled by the HI LO positions on the headlight switch, and was not controlled by voltage. I have found a battery will last longer on the older cutout system, but you have to be proactive and change the charge position on the light switch according to the run time, frequency of restart, etc. On LO charge position to much of the time and the battery will run down. On high charge position to much of the time and the battery will be overcharged, boil dry, etc. As an example, on the tractor I mow, plow, and till with, which normally runs for longer periods on each start I leave the switch on Lo charge all the time. ON the loader which is only used occasionally and usually runs for short periods the switch stays on HI charge all the time. On the one with the grader and snow blade and carry all it is frequently changed between HI and Lo depending on how long I am going to be using it each time.
Mon Jun 02, 2014 9:29 am
Hi John, thanks for the suggestion. One of my buddies at work has one of these and I have borrowed it upon occasion. I didn't know they were so cheap, I think I need to invest in one.
My dad has put 1 battery in the Cub that I know of in the few years that he has owned it. Keep in mind though that he has used it only very little. It was an impulse purchase for him, he thought it was a C, and was very disappointed when he figured out that it was not. At that point he parked it in the barn and only got it out a few times since then. I don't really remember how long he has had it, but I think it's getting close to 10 years.
Last year was the first time he ever let me do anything with it, and yesterday (Sunday) was the first time I heard it run other than fiddling with it a bit last summer.
I don't know how often the previous owner was replacing batteries, dad just says that was one reason that he (the previous owner) decided to sell it.

Thanks also for the information re the 8v battery and charging.
Once I get this tractor in shape her primary duty will be mowing, so she might get a few hours use each week throughout the summer, provided I can get the steering loosened up, right now it's pretty stiff. Other use will likely be pulling a wagon around the farm and maybe a town parade or two. I'll have to do some poking around when I get her home to see what type of charging system she has.
Mon Jun 02, 2014 3:39 pm
Mr. Dent- Your zip code looks very familiar.
P.M. sent.
Mon Jun 02, 2014 4:09 pm
I PM'd you back Trent, looks like you and I are practically neighbors! How cool is that!
Last edited by Arthur Dent on Wed Jun 04, 2014 8:45 pm, edited 2 times in total.
Mon Jun 02, 2014 7:25 pm
Leave the 8 volt in the store! BTDT with an old truck. Great starts, but lots of collateral damage. Like the owner of the local parts house said "if every thing is in good working order, 6 volts is all you need". 8 volt batteries and replacement cable ends are just "band aids".
Mon Jun 02, 2014 10:02 pm
Yikes! They sure are proud of those 6v batteries! The going price around here seems to be about $80.
Wed Jun 04, 2014 1:26 pm
in my area (if you can find them) they are $120.
Fri Jun 06, 2014 8:30 am
Hmmm... well, I guess I shouldn't complain then. I'll pick up the old battery this weekend and swing around and see if Rural King happens to be having any battery sales, sometimes they will do that.
Fri Jun 06, 2014 8:55 am
Arthur Dent wrote:Hmmm... well, I guess I shouldn't complain then. I'll pick up the old battery this weekend and swing around and see if Rural King happens to be having any battery sales, sometimes they will do that.
In this area the Rural King stores seem to put a lot of pressure on Tractor Supply. If there is a Rural King in town the Tractor Supply sells their 6 volt batteries at $44.99. If no Rural King, the TSC price is $89.99.
Picked one up in Van Wert, OH, that way about six weeks ago and when I got home returned the old one to my local store.
Fri Jun 06, 2014 9:42 am
Oh, now that is good information! We do have a town nearby with both a Rural King and a Tractor supply, and they are even very near each other. We even happen to be going through there this Saturday on other business, I'll make it a point to stop in and see what they have.
Thanks for the tip!