Sun Jul 06, 2014 7:54 am
Looking at the sediment cup I could see it was time to empty the cup. No matter what direction I turned the lever on the fuel shut off the gas kept running out. My question is , is the lever a simple half turn to shut it off or is it a screw in to shut off deal.
I just picked up this Cub and I am feeling my way around it. I took off the final drive pans and to my surprise the gears look almost unused, There was very little gunk in the pan, maybe a table spoons worth and plenty of oil. I am starting to feel that it has not been misstreated. There was also a modern oil filter installed at some point. Good signs I hope.
Sun Jul 06, 2014 8:03 am
You turn the stem multiple revolutions from open to closed. The originals back seated when open so need to be turned fully open or they will leak at the stem. Many replacements have a packing. Either way, turn fully to the right to close, fully to the left to open.

Can you elaborate on the oil filter?
Sun Jul 06, 2014 10:49 am
Another thought is that if you are turning it all the way off and it is not shutting off you may want to take it apart and give it a good cleaning. May be some crude in there.
Mon Jul 07, 2014 3:16 pm
Ok I turned it in about 4 or 5 turns and it did shut off. As to my comment about the oil filter. I am new to this Cub stuff so I looked on line to see about what kind of oil fitler is in there , i saw a few pictures of what the originals looked like , sort of a open pleated paper deal. The one that was in there on mine was a metal can with perferations . Plus there was not a lot of crap in the bottom . Like I said , it seems some one took some care of it before it got parked in the barn.
Mon Jul 07, 2014 3:20 pm
Alan, what you describe is what the filters now look like.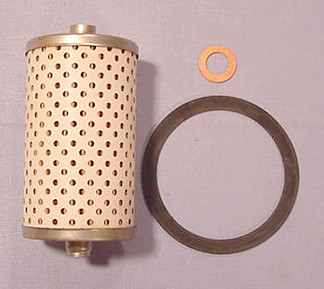 Image from TM Tractor Parts
www.tmtractor.com