We got 2.5" downpour today!!!
garden 1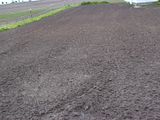 garden 2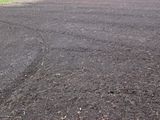 These are pics of just 2 of our gardens a half hour after the heavy rain stopped! --All our gardens were deep ripped and moldboard plowed last fall and only worked 1 time so far this spring,---the ground around us has water standing and gullies cut deep in it.
I used 404 to rip with,---BUT cubs can rip too!, just have to make more than 1 pass and go deeper with each pass then moldboard plow to turn it over clean.---do this in the fall and have nice ground to work and plant in next spring.
A few hours of good drying and I can usually be back in with a smaller tiller.---I only have a small area to hit with the 706 yet and it can wait a while because I havent decided what to plant there.---probably chicken corn on that side since the neighbor planted field corn next door this year.--I dont want sweet corn 3 feet from his corn.(would ruin my good sweet corn!) thanks; sonny