Sun Dec 21, 2008 9:53 pm
First of the seed catalogs arrived a couple days ago. I have already spent several hours looking through it.

My plan this year is to make up a scrap book of sorts listing the plant variety, source and location in the garden where planted. As the gardening season progresses, make some notes as to quantity and quality. What prompted this is that I planted a small yellow watermellon last year that was prolific and a real treat. CRS. I can not remember their name or where I purchased the seeds. Also some plant varieties didn't work out well.
Mon Dec 22, 2008 7:06 am
Ahh, seed catalogs. The first sign of spring. Hope on the darkest day of winter.
Mon Dec 22, 2008 8:19 pm
We have gotten several seed books so far this year for 09 and I am going to try and get a few things local if I can,otherwise our "saved seed" will be the main source of seed for 09!---good time now to start planning for next year!

Eugene!---would that small yellow melon have been called "yellow doll"? We had tendersweets 2 years ago, but they were big long melons! thanks; sonny
Wed Dec 24, 2008 12:54 pm
One of the thrills of this time of year, for me, is to plan next season's garden. The Miller's Catalog arrived about two week ago and has gotten me thinking about making a strawberry bed again as the garden will be expanded in the spring.
Wed Dec 24, 2008 9:56 pm
STRAWBERRIES!!!---YA!!!---lol!! We have a small bed started again,--NOT like the one I did have but will continue making it a bit bigger as time goes along!!--LOTS "O" work to tending berries, BUT OH the taste of the fruit!!!--YA!! makes it worth the price/effort!!

Until we figure out an effective sure fire way to combat rabbit problem here, a lot of our original plans for "stuff" here has flew out the window,---also the early beetle invasion!---Fruit trees are now out for us, even tho I love fruit and planned to grow lots of different varieties!

Actual gardens this year will be smaller too, because nobody will help eat the veggies like they were supposed to do last year!---we will plant more field corn and I can harvest that and take it to the elevator!--get a few bucks for it!--(Grain elevator is only 3 miles away)!---Gotta work the plowed areas to keep the cubs limbered up and maybe actually make a buck or to towards their keep!

Mostly plan on just doing a small "seed saver planting" to have fresh seed for the following year, since some of these varieties are hard to get now!(lots of them have been replaced by hybrid/GMO varieties)

thanks; sonny
Thu Dec 25, 2008 8:26 am
Last year I did some experimenting in the garden. I bought seed from 2 major seed companies and the local Co-OP. Overall the garden was a disappointment mostly because of the weather. Too wet early and too dry later on. The germination rate was 95% with Co-Op seeds and 50% with the other. One company , probably the biggest in the country gave me my money back. I think the quality was not good. This year I will use only Co-Op seed because it is grown in the state and and I think it is more suited for this climate and soil conditions. I do wonder what happens to the seed left over from the seed companies at the end of the season. Any left over Co-OP seed goes in the dumpster. BTW the Co-Op seed costs about 10% of the packaged stuff. Now all I need is better weather.
Fri Dec 26, 2008 10:00 am
the only thing that keeps rabbits out are a good fence and a good shot with a .22 rifle. They tore up what did survive the flood on me last year. I bought a new pellet gun, plan on thining them out this summer.
Fri Dec 26, 2008 12:04 pm
just received my packer creek heirloom seeds catalog and picked up the 08 rohrers seed catolog over in smoketown.hope it works out as good as last yr. i trapped shot and shocked
all kinda stuff last year. i ran a wire three inches off the ground around the garden off the cow fence. 100 mile charger cuts the grass.i shot maybe three rabbits, two or three ground hogs,trapped maybe four more ground hogs, they can't resist apples, and caught a possum. nasty animals and put the pitchfork through a coon in the barn. now i have the mean little jack russell
so we will see next year. plan on making the garden just a little bit bigger next year.i'm working on a subsoiler like i saw someone post on here before,i was over at the ihc case dealer in intercourse and on the sale table they had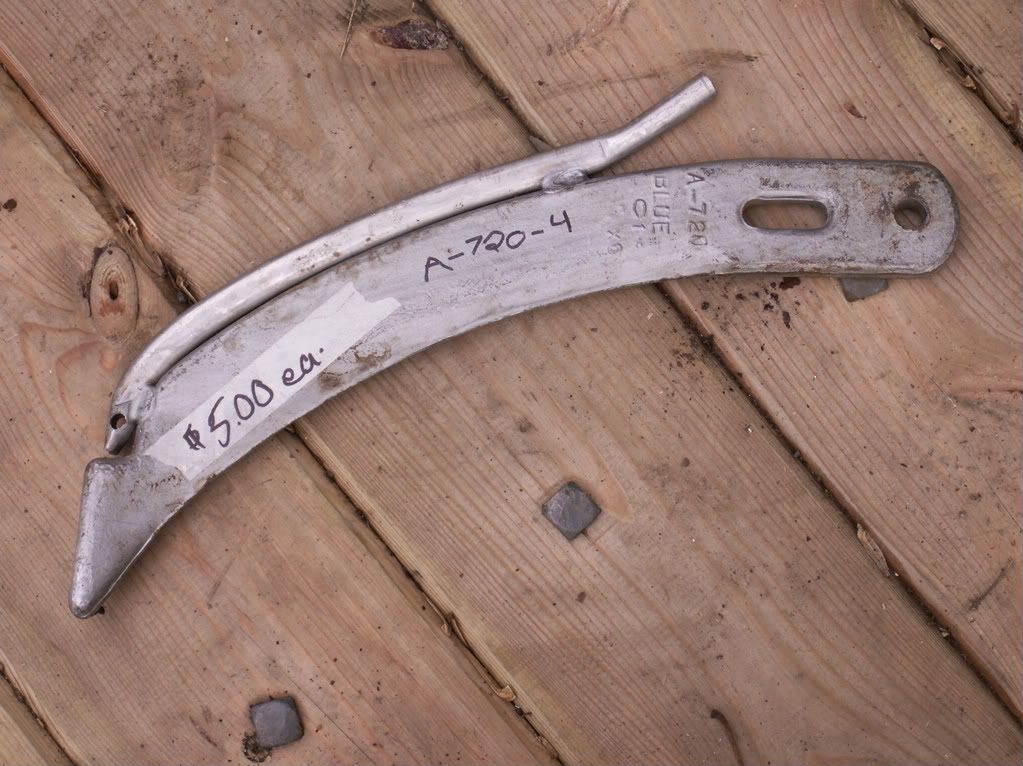 this i figure i can kill two birds with one stone. i need to figure out how to hook up liquid fertilizer on this and get a fast hitch point and i'll be in business. when i sort it out i'll post again.
Fri Dec 26, 2008 1:58 pm
Wish I had a couple or three of them fert. knives!!!---They will work on any liquid blend, 0-28 right up to and including ammonia so all you have to do is mount them up to a tool bar and add small tank, proper valves, hoses and your all set,---a mini-applicator!----I am going to use one of the plastic tanks and the valve from a 495-a deere planter as the base for mine!--planter has disks instead of knives, so I dont know if fert. co down the road would give me a couple worn out knives or not, they rent out several BIG ammonia machines and should have the knives by the truck-load!----I would like to side the corn with 0-28 when knee high if I could.

The rabbit invasion took a hit, but they just keep commin'!! shoot 1 and 10 more show up the next day----So far I killed that same rodent over a dozen times this winter!! LOL!--or so it seems!(I use ole 12 guage, better chance of hittin' them!!)-----Had a big coon sleeping here under the kitchen window the other day!!---probably weighed 50 pounds!--he had checked out the chicken shed and saw that he couldnt get in!( he is now laying 4-up and VERY stiff!!)
Now we have 1 or 2 foxes hanging around the yard, and dont know if that is good or not, either!!---he/they circled the chicken shed the other night too!!---I never see them chase rabbits either, just run right passed them!!----Only thing that I actually see is a hawk grab one now and then!
I just got some plans for the wood tunnel type traps and might try making a couple of them, never really had luck trapping rabbits with the wire live traps!!---according to the wood trap guy, they wont go in wire traps,--BUT will go into these wood jobbers, so might be worth a try!
Another good idea is on a video on U-tube to make a tunnel out of pvc pipe (a couple feet long or so ) and mount a conibear 110 in front of it!----Still looking for ideas and plans, so we could start posting methods and other equipment that work, or have worked! I like the 12 guage method best, but ya gotta see- um before you can shoot-um!!! thanks; sonny
Fri Dec 26, 2008 3:05 pm
sonny tomorrow morning i'm going back over to intercourse.let me know this evening and if they're there i'll grab them. i figure i should have bought another any way two will be better than one.you get them for cost and shipping.
Sat Dec 27, 2008 8:21 pm
sonny i snoozed so we loose ,i should have bought them all when i could at that price. now somebody else did.
Sat Dec 27, 2008 10:31 pm
Its hard to make decisions on deals like that when they come along!!!----I have missed the boat a few times too!! thanks for checking!! thanks; sonny
Tue Dec 30, 2008 8:34 pm
my Gurney's came today, better then christmas