What a job, I don't know how they did it in the old days with out the equipment we have now days, But it had to be a Hard job.
Because Jerry lea and I is tired and glad the job is done, and me and Jerry didn't get hurt.
Here is the Last one getting ready to go.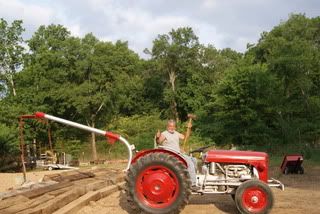 A little Dirt work to go.
Jerry lea doing his inspection of the fine job we did.
It didn't turn out looking as good as I would of liked it to, But not to bad for my first try, and I think it will hold the dirt back.
Time For A Beer