Mon Jul 04, 2011 1:15 pm
Happy 4th everyone!!

Does anyone have a street address for the Frank Bartlow Prototype Building in Millville, PA? I have started a Google map to document existing prototype buildings (see link below) and would like to add it.

Thanks!

matt
Mon Jul 04, 2011 3:42 pm
I don't know the exact address, but it is on South Chestnut Street. It has to be some small number as it is in the second block off Main street (splits north and south).
Tue Jul 05, 2011 10:50 pm
Thanks Jim! Found the building. It's located on South Chestnut between Post Office Avenue and Walnut Street.

Punch this into Google Maps:

41.12231 -76.52597

and it takes you right there.

matt
Wed Jul 06, 2011 12:06 am
That is it.

Here is another one:
32.556103,-95.860822
Wed Jul 06, 2011 11:05 pm
Excellent!
I show that the Coleman Brothers had a dealership in that building in 1948. Do you know anything more about who came after that?
matt
Jim Becker wrote:Here is another one:
32.556103,-95.860822
Wed Jul 06, 2011 11:20 pm
I know the dealership remained open long after '48, nothing else.
Thu Jul 07, 2011 5:51 pm
Matt,
Here is a former dealership building at 20 Tolland Turnpike, Manchester, CT 06042;
Now Shawmut Equipment Company, Inc.
Peter
Last edited by
Peter Person
on Mon Jul 11, 2011 9:26 pm, edited 2 times in total.
Thu Jul 07, 2011 7:31 pm
Peter:
I didn't know Shawmut owned an IH Prototype building
Ray deals with Shawmut for his cranes. Actually met one of the boys last spring when we went to St John to see the new RT Cranes. Shawmut now has a tech service outlet here. If you are ever by the shop, pics a possibility? Ray would love it and I would appreciate it for the Prototype design.
Thu Jul 07, 2011 8:00 pm
Some may be hard to believe from their current appearance.

Former Fredonia Truck and Farm Equipment 42.450659,-79.306397
Former Harvey Pfennig 43.085455,-78.696399
Not sure, but believe the center section of this was the shop section of Chiavetta's 42.587249,-79.017245
Thu Jul 07, 2011 8:01 pm
What did the prototype buildings look like?
Thu Jul 07, 2011 8:09 pm
Bartlow Prototype International Harvester Building & Museum
The sole remaining example of an unmodified prototype IH dealership building built and operated by its original owner and family and used only as an IH dealership!

Located in Millville, Pa., only eight miles from Interstate 80, this unique prototype International Harvester dealership building will house exhibits of IH agricultural, industrial and military equipment, home appliances, as well as memorabilia from IHCC Chapter 17 members' collections and the original Frank Bartlow dealership. Exhibits will be regularly changed to assure repeat visitors a varied educational experience.
Courtesy:

IH Collectors - Chapter 17 - Central Pennsylvania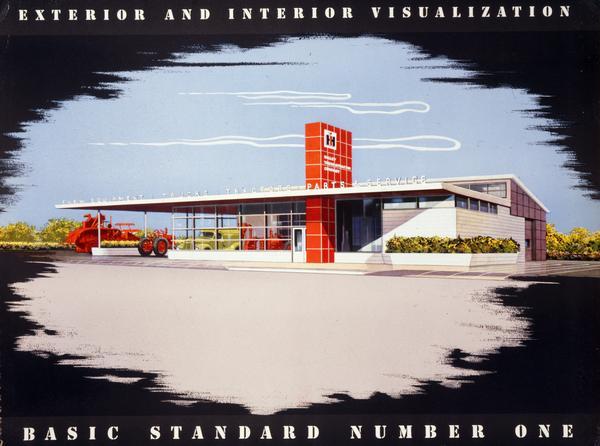 IH Prototype Dealership Building
Front cover of an International Harvester booklet showing "exterior and interior visualizations" of prototype dealership buildings. The cover features a color illustration of the "basic standard number one" prototype design. The prototype dealerships were designed for the International Harvester Company by industrial designer Raymond Loewy.
Courtesy:
Wisconsin Historical Archives
Thu Jul 07, 2011 8:29 pm
Former Palestine Truck & Tractor 31.759978,-95.643255
Former Central Texas Equipment 30.670449,-96.37354
Thu Jul 07, 2011 8:38 pm
There is one west of Fremont, OH on US 20. Was a working dealership until I left the area in 1999. Maybe Bill Darr can shed some light on that one.

Bill
Thu Jul 07, 2011 8:50 pm
Thanks Peter!
Any idea regarding the original dealer's name?
matt
Peter Person wrote:Matt,
Here is a former dealership building at 20 Tolland Turnpike, Manchester, CT 06042;

Peter
Thu Jul 07, 2011 8:53 pm
Keep 'em coming Jim!
Jim Becker wrote:Former Palestine Truck & Tractor 31.759978,-95.643255
Former Central Texas Equipment 30.670449,-96.37354